Derry / Londonderry (pop. 91,000), the second largest city in Northern Ireland and the fourth biggest in the whole of Ireland, has a turbulent history, interesting landmarks, attractive late Georgian, Victorian and Edwardian buildings, lovely surroundings, plus great pubs, eateries and accommodation options. Despite still evident political / sectarian divisions, it is a very pleasant place to visit, not least for its inhabitants' remarkable friendliness to tourists.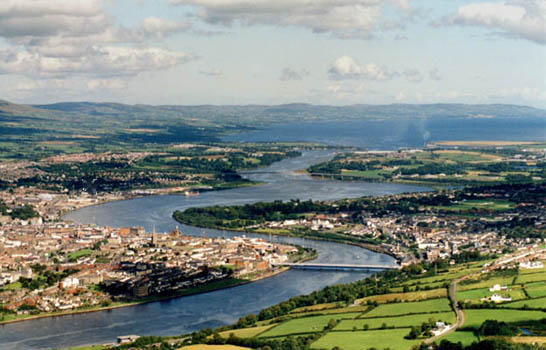 The valley formed by the River Foyle as as it flows through the city makes Derry a place of steep slopes and sudden, startling vistas.
Derry preserves itsC17th City Walls, the only completely intact set  remaining in the British Isles, and its original layout of four main thoroughfares radiating from the central Diamond to the City Gates — Bishop's Gate, Ferryquay Gate, Shipquay Gate and Butcher's Gate. Magazine Gate, Castle Gate and New Gate were added during the C19th, making seven gates in total.
The hill on which the walled city stands was once an island in the River Foyle. The channel which swept past the western side of that island gradually dried out, leaving a low-lying marshy area later known as the Bogside, where much of the city's C19th textile industry was based.
The modern city covers both river banks (Cityside on the west and Waterside on the east), and also extends to the southeast. Towards the northeast the terrain is flatter, with woodlands and large expanses of reclaimed saltwater mudflats on the shores of Lough Foyle, protected from the sea by miles of dikes.
Although internationally renowned for its troubled history and sectarian strife, Derry nowadays has an increasingly cosmopolitan ambience, and was voted one of the ten best UK cities of its kind to live in by the London's Civic Trust.
The Toponymic Conflict

Signpost defaced with black paint. (Photo by Danny Invincible)

The issue of whether to refer to the city (and county) as Derry or Londonderry is politically fraught. Read article.

"Derry" is an Anglicisation of Daire / Doire Cholmchille – "oak-wood of Colm Cille", a monastic settlement founded in the C6th at Daire Calgaich – "oak-grove of Calgach". In 1613, when the city was established by the London guilds as part of the Plantation of Ulster, a Royal Charter granted by King James I added the prefix "London", changing the official name to Londonderry.

The name "Derry" is preferred by Nationalists (usually of Roman Catholic descent), and it is broadly used throughout Northern Ireland's Roman Catholic / Nationalist community, as well as in the Republic of Ireland. The term "Londonderry" ("Lunnonderrie" in Scots) is favoured by Loyalists / Unionists (usually of Protestant descent) as acknowledging the importance of their traditions, although many use "Derry" ("Derrie") in everyday conversation.

The name of the local authority district covering the city was changed to Derry City Council Area in 1984, but the name of the city remained unchanged in law, and civic ordinances are still issued by the "Corporation of Londonderry" in the name of the "Mayor, Aldermen and Citizens of the City of Londonderry". A report on the background and current legal status of the issue can be read here.

While the official "Londonderry" is used by the UK's government organs and quangos, including the Royal Mail, letters addressed to "Derry" will reach their destinations.

Local usage varies, e.g. Londonderry Port, City of Derry Airport, Londonderry Chamber Of Commerce, Derry City FC, City of Derry Rugby Club, and, curiously, the Protestant Apprentice Boys of Derry.

The 'politically correct' use of  "Derry / Londonderry" (e.g. by the BBC) was satirised by the nickname Stroke City (popularised by a local broadcaster now known as "Gerry / Londongerry").

Whereas all relevant road signs in the Republic use the name Derry, most within the UK read Londonderry, but as these are often defaced, some are abbreviated to "L'Derry".

One story goes that a civic superhero, on learning of a damsel in distress in a Nationalist area, makes for the nearest telephone box to change and emerge in his mask, boots, tights and cape with "Derryman" emblazoned across his chest, whereupon the locals cheer and wave as he performs mighty deeds of deringdo. In Unionist areas, he  emerges bearing the legend "L'Derryman", only to be greeted with glares and hisses of "'L apostrophe' is not good enough!!".

The Maiden City is a nickname arising from the fact that the city walls have never never been breached, even during the 105-day 1689 Siege. Several large stone columns now euphemistically welcome drivers to "the walled city."

The village of Londonderry in Yorkshire, England, derives its name from the coliery-owning Stewart family's various aristocratic titles, while Londonderry Island, situated off Chile's Tierra del Fuego, was so labelled by another member of the family, Robert FitzRoy, captain of HMS Beagle, made famous by Charles Darwin.

Derry and Londonderry are the names of neighbouring towns in New Hampshire, USA, and there are other Londonderrys in Vermont, USA; Nova Scotia, Canada; and in northern and eastern Australia, all so named by nostalgic emigrants.

The Royal Navy has given the name HMS Londonderry to both a sloop (1935 – 1948) and frigate (1948 – 1989).
(Photo – www.belfasttelegraph.co.uk)
Derry's designation  as the first UK City of Culture for 2013 is a recognition of the city's healthy arts scene; it was also voted the UK's "tenth most musical city" by PRS for Music.
The Millenium Forum Theatre & Conference Centre is a venue for concerts of every sort, plays, musicals, opera, ballet and dance performances, comedy shows and Christmas pantomimes.
The Nerve Centre, a youth self-help group established in 1990, has been based since 1999 in a purpose-built multi-media facility with live performance and rehearsal spaces, audio, video and animation recording studios and a pleasant café. Its  film work has won international acclaim, including an Oscar nomination for the short Dance, Lexie, Dance in 1998 and a BAFTA nomination for The Crumblegiant in 2008. The centre is also the prime  popular music venue in the Northwest of Ireland, regularly hosting gigs by local, national and international performers.
The Verbal Arts Centre, housed since 2010 in the refurbished C19th First Derry School building, with a splendid former assembly hall, library, recording studio, debating chamber and coffee room, has hosted plays, poetry recitals, storytelling sessions, readings, films, debates, musical performances, dances, art installations, weddings, lectures, seminars, training sessions, corporate board meetings and even the Northern Ireland Executive.
The Playhouse Theatre & Conference Centre, with recently refurbished premises on Artillery Street, is a busy arts centre.
St Columb's Hall, at the Orchard St / Newmarket St junction, was built in 1886 as a Temperance Hall; later used as a cinema, and is now a 1000-seat theatre / concert venue.
The Waterside Theatre & Arts Centre is housed in the Ebrington Centre on Glendermott Road, a strikingly restored old factory. Specialising in dance and children's theatre, it also has a full-screen cinema and a bar / restaurant.
The Gordon Gallery, the McGilloway Gallery, the Context Gallery and Void host regular art exhibitions.
Peadar O'Donnell's pub is a friendly traditional music venue.
Sandinos, a stylish modern nightspot, hosts a wide variety of music, including live jazz and blues.
The city has a selection of good bars and eateries; while visitors are always warmly welcomed, it should be borne in mind that political differences can be inflamed by alcoholic consumption!
Brooke Park is a splendid Victorian-style amenity developed in the former grounds of Gwyn's Charitable Institution for Destitute Boys, established in 1840 and purchased under an 1899 Act of Parliament (the building, later used as a public library,  was destroyed by a firebomb in 1973). (Photo by BrianDamage)
Derry has several other pleasant green amenity areas, notably the Waterside's  St Columb's Park and Prehen Woods, plus Creggan Country Park and Ballyarnett Natural Park.
Festivals

The Maiden City Festival, held in the second week of August every year, is the modern version of the traditional Apprentice Boys commemorations, a multi-cultural event with an emphasis on Derry's Protestant heritage, featuring diverse musical performances, parades and street events.

The Foyle Film Festival has become a major annual event over 23 years, held every November, with art house cinema programmes of documentaries, short and feature films from all over the world, attracting top industry professionals to Derry for local and international premieres, workshops and presentations.

The City of Derry Jazz & Big Band Festival has been held every spring for  the last nine years, creating something of a carnival atmosphere in the streets.

The Instinct is an annual youth festival celebrating the arts that takes place throughout the city.

The Picnic in the Park is a free musical event held every September, usually in Brooke Park.
The Magee Campus of the University of Ulster occupies the landscaped grounds of Magee College, founded with an 1846 bequest by a Mrs. Magee as a training centre for Presbyterian ministers; the imposing principal edifice (1865), overlooking the River Foyle, forms part of the city skyline. The campus hosts the United Nations INCORE (International Conflict Research) innovation centre.
Foyle & Londonderry College (FALC) traces its origins to the 1617 establishment within the City Walls of the Free Grammar School, which moved to new premises and was renamed Foyle College in 1814. From 1868 it competed with the Londonderry Academical Institution, with which it merged in 1968. Meanwhile, Strand House School (1860 – 1916) vied with the Ladies' Collegiate College, founded in 1877, which changed its name in 1900 to Victoria High School, associated with the Northlands School of Housewifery (1908), and merged with St Lurach's (c.1900) to become the Londonderry High School in 1928. It took an Act of Parliament in 1976 to amalgamate the survivors into a  voluntary co-educational grammar school, spread over two suburban campuses. Prominent alumni have included the Restoration dramatist George Farquhar and songwriter William Percy French, plus a number of coloniqal administrators, lawyers, judges, journalists / broadcasters, actors and rugby players.
St Columb's College, a large Roman Catholic boy's school founded in 1879 near the city centre and located since 1973 on the suburban Buncrana Road, has a remarkable list of past pupils, including the  SDLP founder and 1998 Nobel Peace Prize winner John Hume (voted "Ireland's Greatest" in a 2010 RTE poll) and his political successor Mark Durkan;  the 1995 Nobel Literature laureate and 2006 TS Eliot Prize winner Seamus Heaney, poet and novelist Professor Seamus Deane, writer Seosamh Mac Grianna, playwright Brien Friel, actor Gerard McSorley, bishop Edward Daly, activist Eamonn McCann, composers Phil Coulter and Kevin O'Connor, musicians Paul Brady and Marcas Ó Murchú, jurists Sir Liam McCollum PC and Sir Declan Morgan, mathematicians Peter McCullagh and John Toland, physicist Daniel Bradley, architect Liam McCormick, and many others, prominent in fields ranging from British colonial administration, academia, medicine and the media to sports including GAA, rugby, soccer and swimming.
Other notable politicians associated with Derry include the youngest woman ever elected as an MP, socialist republican firebrand orator Bernadette Devlin McAliskey, and former PIRA member, Sinn Fein politician, MP and current deputy First Minister of Northern Ireland Martin McGuinness.
Other major writers who were born or have lived in Derry include philosopher George Berkeley, who was Dean of Derry from 1724 to 1733, and C20th authors Joyce Cary,  Jennifer Johnston and Nell McCafferty.
Derry's musical stars number the pop chart-topping 1970 Eurovision Song Contest winner for Ireland,  Dana (who as Rosemary Scanlon went on to become a Roman Catholic evangelist and right wing politician in the Republic), the pop / rock band the Undertones and their one-time lead singer Feargal Sharkey.
The Londonderry Air, a beautiful C19th tune said to have been inspired by the scenery of County Londonderry, but of unknown origin, is the setting for the popular anthem Danny Boy and several other songs.