These pages describe ByRoute 7 between Rearcross (County Tipperary) and its western terminus near Tralee (Co. Kerry).
Cappamore & Bilboa (Co. Limerick / East)
Cappamore (An Cheapach Mhór) (pop, 1000), a friendly village and parish with a range of good shops and pubs, hosts an important annual Agricultural Show every August.
The Cappamore Show (Photo by Lean66)
The Great Famine hit Cappamore parish very badly, and despite the best efforts of a Relief Committee headed by the local clergy of both denominations (in the winter of 1846 / 1847 soup kitchens were feeding almost 2,800 people daily) the population (mostly living in squalid mud cabins) declined by almost 50% over six years.
Bilboa, now an increasingly residential zone, may have had some historical importance. The manor is said to have passed by marriage in 1788 to the English Earl of Stradbrook, but such a title has never existed, while the Suffolk racehorse owner and MP Sir John Rous was only ennobled as 1st Earl of Stradbroke in 1796.  Equally suspect are claims that several trials were held here, including that of  Tim Moore, a local Roman Catholic priest sentenced to death and hanged in Limerick City in 1798.
The Mulkear and Bilboa Rivers, long prone to flooding, are attractive features of the district, which has been described as a "botanical wonderland on limestone, sand and fen of national importance, and home to many rare and protected plants".
The Dairy Guesthouse provides free snooker, gym and mountain biking facilities.
Cappamore is
Castlegarde / Castle Garde, a C16th five-storey Tower House, was modernised in 1820, when a lower castellated wing was added by Walter O'Grady (son of eminent lawyer Standish O'Grady), later 1st Viscount of Guillamore, probably to the design of the Pain brothers. According to locals the building used to be linked by a four mile long underground passage to another O'Grady stronghold at Toher, now in ruins. The oldest inhabited building in County Limerick, Castlegarde is said to be haunted by "a lady in silk".
Doon (Co. Limerick / East)
Doon (Photo –Buhbsu)
Doon (Dún Bleisce – "fort of the harlot" / "stronghold of immoral women") is an ancient parish and village situated on the Bilboa River near the County Tipperary border. The district is scenic, and has several good pubs / eateries.
The origin of the name is disputed. Dún refers to the ring fort (one of eight in the area) behind the Protestant Church just outside the village, said to have been where prostitutes entertained British Army redcoats in days of yore. However, Dún Bleisce was mentioned in the Annals of Innisfallen and the Book of Ballymote written in 774 AD and 1390 respectively. Locals insist that the name connotes a strong woman, and that local women were always noted for their beauty and culture.
Doon in the early C19th was notorious  for a group of Ryan clan members and associates called the Reaskawallahs after a townsland in the parish. They engaged in faction fighting, popular at that time all over the country, and were involved in many a skirmish against the Coffeys of Newport. Famous local leaders included The Russian Buckley (so called because he was "as big as a Russian"), who had the dubious distinction of being the last man killed in a faction fight, at Cappawhite in 1887.
The Tithe War saw passions running high in Doon. For an amusing account of the affair of Fr Hickey's cow, click here. The same tale is included in a longer article about fraught inter-denominational relations, available here.
The Great Famine & the clergy of Doon

Doon was very badly affected by the Great Famine. Although the figure "of those who died in consequence of hunger, 300" was reported by the Church of Ireland minister, Rev Atkinson, an 1853 letter written by the Roman Catholic parish priest, Fr P Hickey, gives a fuller account: "In the year 1847 there were in this parish 989 houses but now there are only 375. 614 Catholic houses were levelled to the ground and their inmates were driven out, like wild beasts by merciless and inhuman landlords. Many died almost immediately of hunger and starvation, many prolonged life for a short time in temporary sheds, they threw up on the highway sides, or in the gripes of ditches. Some entered the workhouses where they lost their sight and ultimately died by slow degrees, but such that had the means left, fled to America". According to Fr Hickey, 300 people died "of starvation, want and hunger" in one six month period in 1847 alone.

Fr Hickey recorded that "The Rev. Mr. Atkinson, the Protestant parson here, ……. saw and sedulously watched everything, he was intimately acquainted with the sad state of the people. I have no language sufficient to describe the intense and fiendish hatred he entertained for our holy religion. He had no family, he was very wealthy, had ample means, not less than £800 a year. When he found that the time was ripe he commenced the work of proselytism". The priest assured his Bishop that "hundreds and hundreds of Your Grace's Flock in this parish have died of actual hunger rather than live at the loss of their holy faith", and added that those who had  converted "were the worst of the flock…….incorrigible……they were all in extreme want and when the great alternative of death or apostacy was offered them, they had not the grace of embracing martyrdom"

Mr Atkinson, who  is commemorated in the name of a local crossroads, collected £139.17s.6d from 33 subscribers in 1846, headed by Lord Lismore with £25.

In 1847 Fr Hickey built a large chapel in Doon at the cost of £2,400 (three quarters of a million in today's terms). "…I got the site of the Chapel from the Grandfather of the present Earl of Derby and … the Chapel was built and completed by me exclusively from the resources of the parish". The local Historical Societynotes that this was a massive amount of money to extract from people already on their knees, and that when the good priest died in 1864 he was a very wealthy man, with shares in various railway companies worth almost £8,000 (more than two million in today's terms).
The parish church (RC)  in Doon village was built in 1836 at a cost of £1,000 on a site donated by Lord Stanley of Cooga.
The parish church (CoI) was built in 1859, probably to accommodate the number of cait / cola breacs ("speckled / turn coats" – converts who "took the soup") in the area. It replaced an edifice constructed in 1799 on a site now used as a graveyard.
Preacher's Restaurant, housed in a converted church building (Fr Hickey's expensive chapel?), has received very favourable reviews.
Cooga Bog

Cooga Bog, traditionally the location of a battle fought between Vikings and Gaels, is covered in vegetation, making what one Dutch visitor described as a paradise of naturally occurring plants without any help from man.

The land erupted in a spectacular Bog Burst in 1708, burying three houses containing 21 people. The flood of liquid turf, one mile long, a quarter of a mile broad and 20 feet deep on some places, ran for several miles, crossing roads and demolishing bridges until it eventually flowed into the lake at Cool na Pisha. (This account is based on an article in the Dublin Evening Telegraph of 2nd January 1897).

The Cooga Ornaments are an ancient fibula and bracelet found on the edge of the bog in 1867 by local farmer Denis Crowe, and sold in Limerick City for their worth as pure gold. The primitive ornaments found their way into the hands of Sir William Wilde, and are now kept in the NMI.
Kilmoylan House, east of the Bog, was long the home of the White family, credited with adding the name White to Cappawhite, where they had also lived. The last member of the family to live in Kilmoylan was Newport White, who died in 1924 and is interred in the family vault in the Church of Ireland churchyard at Doon. When his mother had been laid to rest in the same place, a local thief had tried to cut a gold ring from her finger, which spurted blood. The poor man nearly died of shock, realising that the woman must be alive. He grabbed her in his arms and ran back to Kilmoylan with her. It is reputed that he got a substantial reward for his efforts.
St Fintan's Well is said to have healing properties. Saint Fintan is recorded as having lived locally to the age of 260.
Pallasgreen (Co. Limerick / East)
Pallasgreen / Pallas Green / Pallas Grean (Pailís Ghréine – "the Stockade of Grian", referring to either a famous Banshee or an ancient Irish goddess of Love) is not one but two villages, Old and New.
Old Pallas Green is the location of a motte and the remains of a monorial church.
New Pallas Green, once famous for its single bar (the remarkable Chaser O'Brien's – "a story unto itself", but alas no more) is nowadays home to several good hostelries, notably the highly recommended Chaser Fitzgerald's and  Whelan's Pub.
On a steep scarp near the village are several hexagonal basalt columns, similar to the rock formations at The Giant's Causeway.
Pallas Grean Hill is the site of the old fort under which the Banshee Grian of the Bright Cheeks was said to have her dwelling.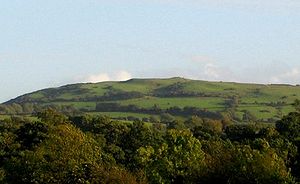 The Hill of Nicker, traditionally home of the ancient goddess of Love, is the highest of the local group of extinct volcanoes and volcanic hills that extends into Kilteely-Dromkeen. This is one of the most important carboniferous volcanic districts in the British Isles. The area is noted for zinc mining.
Sarsfield's Rock, a large rocky outcrop near Templebredon church, commands fine views of the surrounding hill country, and looks down on the site of the triumphant goal of what is widely considered one of the greatest feats in world military history, performed during the Williamite War by the Jacobite General Patrick Sarsfield, Earl of Lucan.
'Sarsfield's Ride'

In 1691, during the Williamite Siege of Limerick,  Sarsfield set out from the city with 600 cavalry for Killaloe in County Clare.  Having  secretly  forded the River Shannon by night and ridden through the  Silvermines Mountains in County Tipperary, guided by the outlaw 'Galloping Hogan', leader of the Wild Raparees.

He then made a roundabout sweep of 96km / 60 miles via Ballyneety to  launch a surprise night attack on the enemy's siege train reinforcements heading for the city, and destroyed their artillery and supplies without losing a single man.

The 'Sarsfield's Ride' route is marked by road signs.
Pallasgreen is
Kilteely & Dromkeen (Co. Limerick / East)

Kilteely & Dromkeen form a combined parish. There are several good pubs in the district.
Kilteely's cemetery contains an impressive monument to William Lundon (1839 – 1909) an Irish Parliamentary Party MP for East Limerick.
Kilteely Hill (176m / 580ft) and Knockderk (220m / 782ft) are both conical volcanic plugs.
Kilteely is close to Herbertstown on ByRoute 6.
Dromkeen (Drom Caoin – "pleasant ridge") is the location of  the modern St Brigid's parish church (RC), which has an interesting metal sculpture outside it.
The Dromkeen Ambush, one of the larger IRA operations carried out during the War of Independence, saw 40 volunteers attack two lorries carrying 13 Black & Tans, heroically killing 11. It took place near the former Church of Ireland edifice, which has an ivy-clad tower and an atmospheric old graveyard.
Dromkeen's Oyster Ballroom was a nationally famous dancehall in the 1950s.
Dromkeen is