These pages link Clonee on the outskirts of DUBLIN with Moore / Clonfad (Co. Roscommon)
Dunboyne (Co. Meath / Southeast)
Dunboyne (Dún Búinne -"Baeithin's / Boyne's fort") (pop. 6000), is nowadays primarily a dormitory town for the city of DUBLIN, served by several Dublin Bus routes. (Photo – Harold Strong)
The Dunboyne Bell,  found in 1972 in a nearby field along with human remains, is associated with an early Christian community in Dunboyne. The C8th / C9th bell, made of iron and coated in bronze, is on display in the NMI.
Dunboyne was evidently a medieval borough, as a writ issued on  28th July 1423, during the reign of King Henry VI,  ordered "the Provost and Commonalty of the town of Dunboyne to be at Trim with all their power for its defence."
During the 1798 Rebellion, Dunboyne was the location of an encampment of Wexford insurgents  under the command of Fr Mogue Kearns as they attempted to join forces with northern rebels, and the town was burnt down during disturbances on 12th July.
Dunboyne Castle / House

Since 2008, the old house has formed the centrepiece of the luxurious Dunboyne House Hotel & Spa. (Photo – www.meetingsbooker.com)




Dunboyne Castle was the the early C14th seat of Thomas de Botiller, Lord of Dunboyne, whose descendant Sir Edmund Butler, Kt, was made Baron of Dunboyne by letters patent in 1541.

The C18th saw a fine Georgian mansion erected in stages (with plaster work by the Francini brothers and/or Robert West), but the property was the subject of a series of lawsuits over much of the period.

John Butler (b. 1731), third son of the 18th / 8th Lord Dunboyne, was not required to join his elder brothers in the Austrian Army; despite having lost an eye in unknown circumstances (presumably a duel), he was ordained at the Irish College in Rome as a Roman Catholic priest, and as a cousin of Dr James Butler, Archbishop of Cashel, was unsurprisingly appointed by Pope Clement XIII as Bishop of Cork in 1763. Due to the unexpected deaths of his brothers and nephew, he became 22nd / 12th Baron Dunboyne in 1776.

Rather than allow his dynastic line to die out, he sought a Papal dispensation, sensationally resigned his Bishopric and married his relative Maria Butler; when Pope Pius VI refused his request, he converted to Protestantism amidst huge hullabaloo (as Ireland's only official apostate / "pervert" clergyman), but allegedly recanted prior to his death in 1800. His only child, a daughter, was apparently born in Dunboyne Castle, but died in infancy.

His bequest of property to St Patrick's College, Maynooth was disputed by his sister, Mrs Catherine O'Brien Butler of Bansha Castle, Tipperary; a series of suits, notably Butler v. Moore (1802) (denying privilege to confessional priest-penitent communications), resulted in a settlement establishing the Dunboyne endowment of scholarships.

The title was inherited by a Clare branch of Butlers who later acquired Knappogue Castle; the 28th / 18th Lord Dunboyne (d.2004), an Irish Guards Officer during WWII, was a barrister and judge in England, President of the Irish Geneological Research Society, and author of  the Butler Family History (1966).

Dunboyne Castle subsequently passed through the Sadlier, Beamish, Mangan and Koenig families, and was leased to the famous polo player John Morrogh-Ryan until after WWII. The Sisters of the Good Sheperd nuns ran it as a centre for unmarried mothers-to-be until 1991.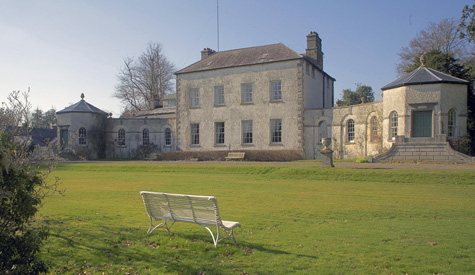 Hamwood House was built c.1764 by the Duke of Leinster's agent Charles Hamilton, whose family have remained in residence, handing the job down from father to son until c.1970. The house is of an unusual design, framed by octagonal "pepper-pot" pavilions, one acting as the main entrance. The interior contains beautiful period furnishings and a fascinating collection of C18th drawings by Caroline Hamilton. The grounds feature a Pine Walk through woodlands, rhododendrons, herbaceous plants and ferns, a Palladian Rose Garden, a Walled Garden with a lily pond, a herb garden, a serpentine rock garden, magnolias and other flowering shrubs.
The church of Ss Peter & Paul (CoI), tucked behind the town centre, is  a small C19th English gothic style edifice, with an ornamental belfry and twin windows in all walls except its west gable. The grounds contain the ruins of an earlier church, numerous dilapidated headstones and a noticeboard headed "St Peter's church".
The church of Ss Peter & Paul (RC), a prominent central building erected in 1959, replaced a church constructed in 1801 with partial funding from government compensation for the destruction of the previous chapel during the 1798 disturbances.
William Rowan Hamilton (1795-1865), Ireland's greatest scientist (physicist / astronomer / mathematician), had ancestral roots in Dunboyne.
The former village was immortalised as the rural community of Leestown in the wildly popular RTE television soap opera The Riordans (1965 – 1979).
Dunboyne's most famous resident is John Bruton TD (b.1947), a Fine Gael politician who served as Taoiseach in a Coalition government with Labour from 1994 to 1997.
Dunboyne is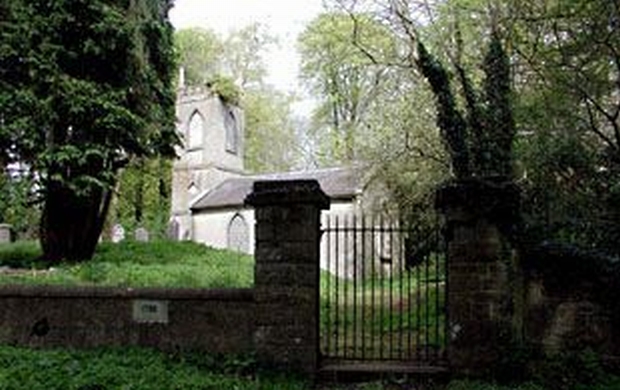 Balymaglassan church & graveyard (Photo by Peggy Ashby)
Summerhill (Co. Meath / South)
Summerhill (Cnoc an Linsigh – "Lynch's Hill") is a small planned estate settlement around an exceptionally pleasant village green with a medieval wayside cross.
The Irish name recalls the long dominance of the Norman Lynch family, later included among the "Tribes of Galway"; until the mid-C17th this was Anglicised as "Lynch's Knock" / "The Knock".
This was the location of one of the most important Irish confrontations during the Wars of the Three Kingdoms, the 1647 Battle of Dungan's Hill, at which the Kilkenny Confederacy's Leinster army marching towards Dublin under Thomas Preston was decisively routed (with over 3000 casualties) by Parliamentarian troops led by Michael Jones (who later defeated the mixed Confederate / Royalist army commanded by the Marquess of Ormonde at the 1649 Battle of Rathmines).
The victor's brother, Henry Jones, Bishop of Meath (best remembered as the donor of the Book of Kells to Trinity College), was granted this land in 1661 by the restored King Charles II, who chose to overlook the prelate's role as Scoutmaster General for Cromwell's army. He sold the property to Sir Hercules Langford, a rich Presbyterian, who gave it its modern English name in 1667.
Summerhill House

Summerhill House, built c.1730 for Hercules Langford Rowley, 2nd Baron Langford, was considered to be one of the most dramatic of the great Palladian mansions of Ireland. The design was accredited to architects Edward Lovett Pearce and Richard Cassells.

(Photo – Milton Keynes Heritage Association)

The mansion was chosen to accommodate Elizabeth ("Sisi"), Empress of Austria on her 1879 and 1880 visits to Ireland to hunt. The 4th Lord Langford, Hercules Edward Rowley, aka "Paddy", was persuaded to rent the premises to the Government and stayed as a guest of the Empress in his own home, together with the 5th Earl Spencer, twice Lord Lieutenant of Ireland, and his dashing Anglo–Scot equerry George "Bay" Middleton, alleged to have been the Empress's lover (and also probable father of Winston Churchill's wife Clementine Ogilvy Hozier).

The Empress rode out every day with the famous local Master of Hounds, Leonard Morragh, who was so pleased with her riding skills that he gave her Domino, her favourite horse for many years (when he died she had his hooves mounted). An entertaining contemporary New York Times account of her 1980 visit can be readhere.

Once, when she was hunting with the Ward Union, a stag jumped through a gap in a wall and into Maynooth Seminary with the Empress and hounds in hot pursuit. The College President, Dr Walsh, came out to meet the group and offered them refreshments; she subsequently attended Mass at the college chapel and presented a set of gold-embroidered silk vestments.

The presence of a popular Roman Catholic monarch in Ireland was a political headache for the Duke of Buckingham, the serving Lord Lieutenant. Everywhere she went there were triumphal arches and large crowds to cheer her.

Summerhill House was damaged by fire on a number of occasions. The War of Independence saw it deliberately destroyed by Republican arsonists on 4th February 1921. In 1925 the Free State Government paid compensation of £43,500 (approximately one third of the value of the house and contents destroyed in the fire) to Colonel Rowley, 6th Baron Langford, who moved to England.

Summerhill House stood as a ruin until it was totally demolished in 1970. An atmospheric photograph of the ruin can be seen here.
The ruins of the old Lynch castle was retained as a folly and is still visible on Summerhill Demesne, which is private property.
Dangan Castle

Dangan Castle was established in the early C18th by Richard Colley Wesley, MP for Trim, who was ennobled as 1st Baron Mornington in 1746. His son Garret (1735 – 1781) was made Earl of Mornington in 1760 and was Grand Master of the Grand Masonic Lodge of Ireland in 1776.

Garret's five sons had distinguished careers, most notably the eldest, Richard, 2nd Earl of Mornington and later Marquess Wellesley, who served as Governor General of India and Lord Lieutenant of Ireland, and the third, the Hon. Arthur Wellesley, whose military genius in India and the Napoleonic Wars earned him the title Duke of Wellington, and became Prime Minister of the UK.

The classical Italianate mansion, extended by the 2nd Earl, is now a ruin, but in its time was famous for its pleasure grounds, including an artificial lake on which famous naval battles were played out for the edification of family and friends.
Shaw's pub is an excellent local amenity.
Summerhill is
Rathmolyon (Co. Meath / South)
Rathmolyon / Rathmolion (Rath Máigh Laighin – "the Fort of the Leinster Plain") (pop. 170) is an attractive crossroads village. The district is characterised by limestone walls, and features several interesting old buildings.
St Michael & All Angels church (CoI), built in 1797, had a splendid octagonal bell tower with a "witch's hat" steeple added in 1857.
Harnan's Pub is a handsome thatched house dating from c.1880.
Rathmolyon was a significant location in the late C19thdevelopment of the Christian Conventions / Cooneyite movement(s).
The Rathmolyon Esker has been proposed as a Natural Heritage Area.
Rathmolyon is .