These pages describe ByRoute 10 between its eastern end at Milltown on the outskirts of DUBLIN and Sopwell Hall near Ballingarry (Co. Tipperary).
Hazelhatch (Co. Kildare / Northeast)
Hazelhatch (Colchoill) is a quiet residential district on the border between County Dublin and County Kildare, noted mainly for its pretty mooring area on the Grand Canal, with two good waterside pubs within walking distance of a suburban railway station that also serves Celbridge.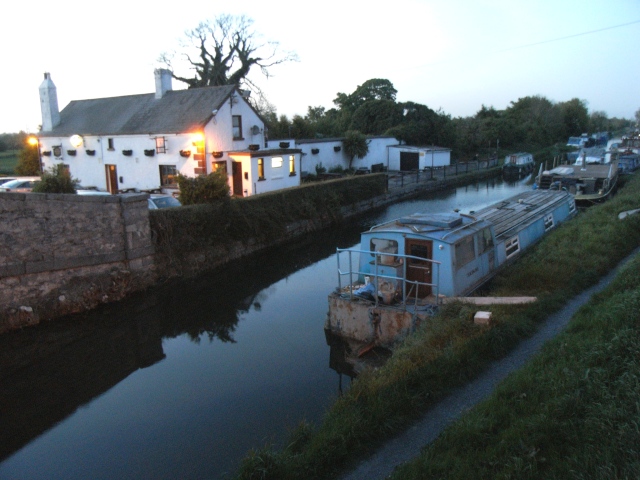 McEvoy's Pub at Hazelhatch (Photo by JP)
Ireland's first factory was established in 1765 near the newly constructed Grand Canal at Hazlehatch, to manufacture farm implements. Partially funded by the Dublin Society, it was founded by agricultural improver and writer John Wynn Baker, who is buried locally.
Celbridge (Co. Kildare / Northeast)
Celbridge (Cill Droichid – "church by the bridge") (pop. 17,200), is a crossroads town on the River Liffey. Formerly known as Kildrought, it was developed in the early C18th as a village at the gates of Castletown House, and later became a minor industrial centre. The community, reduced by emigration from an 1851 high of almost 1,700 to fewer than 600 a century later, has undergone spectacular growth in recent years, with a high proportion of immigrants, and is now a sprawling commuter satellite of DUBLIN.
The Liffey Bridge, a narrow six-arched stone structure, last rebuilt after storm floods in 1802, and still Celbridge's only public river crossing, nowadays creates an inconvenient traffic bottleneck. (Photo by Ian Paterson)
Celbridge History

Folklore associated  Cill Droichid with Saint Mochua, said to have founded a long-vanished church near a local Holy Well where he allegedly baptised pagan converts. There are records and sometimes remains of several other pre-Norman churches in the area, e.g. Donaghmore (plundered 1150, mentioned 1190) Laraghbryan (plundered 1036 and 1171) and Stacumny (mentioned 1176).

Kildrought village was a Norman settlement. A long street had taken shape by 1314, when one Henry le Waleys was charged at Naas court with "breaking the doors" of houses in Kildrought and "taking geese, hens, beer and other victuals".

According to Sir William Petty's Down Survey, published in 1656, the population of Castletown Kildrought was 102 and the land was owned by the Roman Catholic Dongan family.

Sir William Dongan was made Earl of Limerick by King James II in 1686. His only son and heir William was killed at the 1690 Battle of the Boyne, and the aged Earl, having forfeited his estates to the Crown, died in 1698; however, the land and titles were re-granted to his colonial administrator brother, while his daughter remained in Killadoon House, outliving the two men who took over the district.

Bartholomew Van Homrigh, Chief Commissioner for the Stores in Ireland for the forces of King William III, moved to Kildrought Manor in 1695. He served as Lord Mayor of Dublin in 1697, when the monarch presented him with the chain of office that is still worn by his successors. He built Celbridge Abbey between 1697 and 1703. His daughter Hester / Esther (1688–1723) fell in love in 1708 with her tutor Jonathan Swift, who immortalised her as "Vanessa" in a famous poem (Cadenus and Vanessa, 1713), but ended the relationship ten years later, a rejection from which she never recovered.

(Interestingly, Dean Swift always addressed his letters to her at Kildrought, while she invariably replied from Celbridge).

William Conolly, the country's most powerful political "fixer" and richest commoner, who bought the Castletown Estate from Thomas Dongan, 2nd Earl of Limerick (former governor of Tangiers and New York) in 1709, complained that "all the Earl's tenants were beggars", cleared them from the property and commenced plans for his vast new home.

Speculative developers who followed Conolly to Celbridge were granted new leases stipulating that they should erect substantial stone houses, replacing mud cabins and waste ground. Existing mercantile buildings were incorporated into the expanding mill complex of buildings near the bridge, and developers began to move the axis of Celbridge to a new Main Street.

The Great Famine saw up to 2500 inmates of the local Workhouse die between 1845 and 1847; some say the disaster would have been even worse without the local wage economy.

Anthony O'Reilly, born in Celbridge workhouse in 1900 and fostered by the Cummins sisters of Simmonstown Castle, was an IRA volunteer during the War of Independence. He joined the Free State Army, then defected to the anti-Treaty side after a raid on Baldonnel. He was captured after the battle of Pike's Bridge and shot by firing squad in Portobello Barracks in January 1923, the 44th of  77 Republicans executed by the government during the Civil War.
Celbridge's Main Street is still the town's sole commercial thoroughfare.
Kildrought House, designed by John Rothery, was built in 1720 for Robert Baillie, and a large extension was added after he sold it in 1749. In 1782 the house became John Begnall's Academy; pupils included brothers George, Charles, William and Henry Napier, later collectively known as "Wellington's Colonels", and John Jebb, future Bishop of Limerick, Ardfert, and Aghadoe. The building had a cholera hospital attached to it for a time in the early C19th, and served as the local police barracks from 1831 to 1841. Long a private residence, the property retains extensive grounds and formal gardens. Viewing by appointment.
Castletown House

Castletown House, widely regarded as the country's most palatial mansion, was built for William Conolly (1662-1729), Speaker of the Irish House of Commons from 1715 until his death. (Photo – archiseek)

Construction of Ireland's first and finest Palladian edifice, believed to have been designed by Alessandro Galilei, with wings and interiors by Edward Lovett Pearce, began in 1722, probably overseen by John Rothery, and halted in 1729. The house was inherited in 1758 by the Speaker's radical grandnephew Tom Conolly, whose 16-year-old bride Lady Louisa (née Lennox; daughter of the 2nd Duke of Richmond, great-granddaughter of King Charles II and Louise de Keroualle; raised by her sister Emily, wife of the 1st Duke of Leinster) remodelled the interior during the 1760s and 1770s. A few significant changes were made by another Tom Conolly in the 1860s, the last heyday of the family.

Castletown remained in the hands of the Speaker's descendants until  it was purchased in 1965 by a property developer; the contents were sold at auction.

Fortunately, the house and 120 acres of the demesne lands were purchased in 1967 by the Hon. Desmond Guinness, founder of the Irish Georgian Society, which  opened it to the public and began the restoration work that is still ongoing.  In 1994 the property was transferred to State care, and is now managed by the OPW, which has made heroic efforts to recover, reproduce or replace original Georgian and Victorian fittings, furniture, family portraits and accoutrements.

Some of the best-known interior features of Castletown House are the magnificent two-storey Entrance Hall, the cantilevered main staircase of white Portland stone , the Long Gallery, the Crimson Drawing Room, Lady Louisa's Boudoir, the Map Room and the Butler's Pantry.

Conolly's Folly / Obelisk, a 42m high structure adorned with  eagles, urns and pineapples, was designed by Richard Castle and built to provide employment for the poor of Celbridge after the particularly severe winter of 1739/40. (Photo by Ilja)

The demesne was mainly laid out  by Lady Louisa, who personally designed the riverside Bathing House (now in ruins) and had the classical temple built in honour of actress Sarah Siddons.

The once huge Castletown Estate, now carved up into modern housing developments, had walled market gardens, woodlands, orchards and fields extending as far as the Wonderful Barn in Leixlip.

Castletown has been used as a location for many  TV and film productions, notably Stanley Kubrick's Barry Lyndon (1975).

The principal avenue from Celbridge is no longer accessible by vehicular traffic, which must enter the grounds from the roundabout off the M4.
The Main gates of Castletown, erected in 1783, are framed by the Round House to one side, and by Christ church (CoI), erected in 1884, retaining the tower of an earlier edifice constructed in 1813, serving the parish of Kildrought..
The Charter School, designed c.1730 by Thomas Burgh and built with funds beqeathed in Speaker Conolly's will, was reëstablished by Lady Louisa Conolly as the Collegiate School, a boarding school for Protestant girls that survived until 1973, when it was merged with Kilkenny College.  The building, reopened as Setanta House in 1980, was the only hotel in Celbridge town until its closure in early 2009.
Jasmine Lodge, an impressive five-bay house built  in 1750 at the junction of Main Street and the Maynooth Road (formerly the site of 15 peasant cabins) for land agent Charles Davis , was home to seven generations of the Mulligan family until 1992.  The decorative iron arch at the entrance was made of material salvaged from Dublin's GPO  after the 1916 Rising.
Celbridge Abbey




The current Celbridge Abbey was constructed c.1770 for Thomas Marley, Bishop of Waterford, whose daughter Mary was married to James Grattan, a member of the Irish House of Commons; their son was the great Irish Parliament reformer Henry Grattan, who lived here with his uncle for a couple of years.

A later occupant was Col. Sir Gerald Richard Dease of the Royal Irish Fusiliers, Chamberlain to successive Lords Lieutenant and Governor of the Bank of Ireland 1890 – 1892, who entertained the Empress of Austria during at least one of her visits to Ireland. He helped to fund the local Catholic church, and is buried in a prominent position nearby.

The rock bridge in the grounds of Celbridge Abbey is now the oldest stone bridge across the River Liffey since the removal of John Le Decer's 1308 New Bridge three miles downriver at Salmon Leap.

The romantic rock bower associated with Dean Swift and the ill-starred "Vanessa" is a C19th whimsy.

The property now belongs to the Christian Brothers. The grounds are open to the public.
St Raphael's Hospital, now a St John Of God Brothers home for mentally disabled boys, was originally Oakley Park, built by Thomas Burgh in 1724 close to the small stone house of the vicar of Kildrought and Straffan, Samuel Price,  for his son, Dr Arthur Price, Bishop of Meath, future Archbishop of Cashel,who bequeathed £100 to young Arthur Guinness to build a brewery. The house was later home to  Col. George Napier, his wife Sarah (née Lennox, another sister of Lady Louisa Conolly) and sons, Richard Maunsell and his descendants, and Justin McCarthy MP. A small private burial ground contains the graves of Henry Grattan's grandparents.
Celbridge Mills




The Mills still visible were built in 1785 and extended  to incorporate parts of the  C17th Market House in 1805. Despite the  successive bankruptcies of its first two owners, the centre was described as employing several hundred people when King George IV visited Celbridge in 1821, and as "the  biggest wool manufactory in Ireland"  in 1845.

The mills employed locals of all ages, including small children, and specialist workers from Yorkshire, who lived in Tea Lane (so called because of the amount of discarded tea leaves on the street) and English Row. The closure of the mills in 1879 caused the population of Celbridge to plunge.

Reopened under the 1930s government regeneration scheme, it was a major employer until its closure in May 1982, ending two centuries of intermittent wool production in Celbridge.

The mill now serves as a community centre.

(Other major local mills included Temple Mill on the Ardclough road, run by the Tyrell family for 300 years. According to a note in the 1881 census, the former community of Templeplace lost its population due to the "discontinuance of the flax mill").
Tea Lane graveyard is the site of Kildrought's C14th parish church, burned down in 1798, containing the mausoleums of the Dongan and Conolly families (the latter is now the Death House at Castletown House).
St Patrick's church (RC), designed by JJ McCarthy, was inaugurated in 1857. It is currently used for the celebration of regular Tridentine Masses and sponsors a conservative magazine.
Celbridge Christian Church, formerly known as Celbridge Pentecostal Church, is a small independent congregation of worshippers.
Killadoon, a medieval parish, may have derived its name (Cill an Dún – "church of the fort") from an earthen mound beside the gate leading into the grounds of Killadoon House.  There is an overgrown churchyard with some headstones on the left hand side of the avenue. Is this the pre-Norman Killadoon church reported to be in ruins?
Killadoon House (c.1770) replaced its earlier namesake when the estate was acquired by Robert Clements, made Earl of Leitrim in 1795, who also owned the more famous mansion of the same name in Louisburgh, Co. Mayo.  The Celbridge house was built for banker Nathanial Clements MP, an amateur architect who seems to have had little say in the design his own home. Redecorated in 1820, the house has remained in the same family to this day, and has a lovely walled garden. Viewing by appointment.
Stacumny House, a Georgian mansion with extensive grounds, was the home of Sir Simon Bradstreet (1792-1553), 1st Bart, a friend of Daniel O'Connell's and founder of the Catholic Association. Later occupied by several generations of the Lambert family, it was acquired in 1994 by Cathal Ryan, son of Ryanair and GPA founder Dr Tony Ryan, who owned the nearby Lyons Estate.  In February 2012 it was put up for sale by heiress Danielle Ryan and her partner, Mary Robinson's barrister nephew Richard Bourke, at an asking price of €6.5 million, complete with leisure amenities including a Moroccan-themed swimming pool complex,  courtyard, formal gardens, carp pond, orchard, herb garden, gate lodge, coach house, converted piggery,  90-seat theatre and traditional pub, Ryan's Snug.
Pickering Forest, a three storey Georgian house, is currently the home of Marina Guinness, who reportedly hosts a bohemian colony of transient artists.
Colganstown House, built by the Yeats family c 1760, was the property of Dublin Corporation through the first half of the C19th, and has at various times been the home of the Andrews, Sherlock, Colgan and Meade families.
Celbridge is
Ardrass chapel (restored 1888) is a small rectangular medieval oratory with an unusual stone roof supported by an interior pointed vault. A nearby Holy Well associated with Saint Patrick was long a place of pilgrimage.