Achill Island (Acaill, Oileán Acla) (winter pop. 3000) is a mountainous boomerang-shaped island off the Corraun Peninsula in western Co. Mayo. A number of smaller islands lie offshore.
Achill Island Map (courtesy Achill Tourism)
"Achill, wind-swept and bare ……. with great gaunt brown mountains rising here and there, and a wild coast hammered by the Atlantic waves on all sides but the east, has a strange charm which everyone feels, but none can fully explain." Robert Lloyd Praeger
"One wonders in this place why anyone is left in Dublin or London or Paris, where it would be better one would think – to live in a tent or hut with this magnificent sea and sky an to breathe this wonderful air – which is like wine in ones teeth." John Millington Synge
Ireland's largest island, Achill is 24km long, 18km from north to south, 19km / 12mi wide, with a total area of 148km² / 57mi², and a 120km coastline, and has bleakly spectacular scenery, with wild valleys, lakes, unpolluted sandy beaches, and a number of small attractive villages. It is a Gaeltacht area.
The name 'Achill' is  an anglicised form of  'acaill', the Gaelic form of the Latin word 'aquila', meaning eagle.  Achill was the last breeding place in western Ireland of the white-tailed sea eagle, recorded locally as late as 1875. The golden eagle became extinct in Achill about 1915; the last reliable sighting was on Slievemore mountain in 1910. The islanders regarded these birds of prey as dangerous pests.
87% peat bog, and bathed by the Mexican Gulf Stream, Achill provides a very special environment for flora and fauna. The hilly landscape features endless stone walls and heather-speckled moors, contrasting in some sheltered places with the jungle green vegetation of fuchsia bushes and giant rhubarbs, and in others windswept spots with some of the most dramatic coastal scenery in Europe.
Achill landscape (Photo by Jinx13Graphix)
Unlike many other parts of the west of Ireland, where access to the land is becoming increasingly restricted, most of the countryside on Achill is commonage, open and accessible to hillwalkers. Cows and sheep wander freely, occasionally chivvied by busy black and white sheepdogs. Ruddy-cheeked farmers wave a hand at cars passing them on the island's narrow, windy roads, dominated by mad German cyclists determinedly bobbing lycra-clad bottoms over every pothole.
Achill Island was mostly covered with forest until crop cultivation began with early settlements established around 3000 BC. Several fulacht fia, megalithic tombs, promontory forts, and at least one Standing Stone exist on the island; Early Christian sites are surprisingly few, apart from a scattering of cillín and Holy Wells.
A curious aspect of Achill Island is the striking number of surnames of Ulster origin. There was much migration to Achill in the C17th and C18th from other parts of Ireland, particularly Ulster, due to the political and religious turmoil of the time. For a while there were two different dialects of Irish being spoken on Achill. This led to many townlands being recorded as having two names during the 1824 Ordnance Survey, and some maps today give different names for the same place. Achill Irish still has many traces of Ulster Irish, but is no longer the predominant language on the island.
Achill suffered less than some parts of Ireland during the Great Famine; however, the pre-Famine population of about 8,000, riven by tensions and evictions during the Land War, was vastly diminished by a steady stream of emigration, both seasonal (younger islanders would travel to Britain as harvesters) and permanent; indeed, until the late C20th tourism boom, the main income of Achill's remaining inhabitants arrived in the post from relatives "made good"in Britain and the USA. In particular, Cleveland, Ohio, became an Achill stronghold.
Atlantic coast (Photo by Jonathon Elliott)
At one stage, the island was known for its shark liver oil industry, but fishing is a small aspect of the economy now, and agriculture is only profitable because of European Union subsidies. Despite healthy visitor numbers in general, and lots of German health freaks in particular, the islanders (like many Irish people) tend to revel in pessimism, and the common perception is that tourism in Achill has been slowly declining since the big spurt of the 1960s and 1970s. Currently the biggest employers on the island are two hotels and a call centre.
Many of the most picturesque cottages date from the beginning of the C20th. Before that, most islanders lived in very small tenements tightly packed together in villages, while some families still inhabited Beehive huts / claughain (circular single roomed dwellings with a hole in the ceiling to let out smoke). The Congested Districts Board for Ireland, a body set up in 1888 to improve living conditions in poor areas, subsidised the building of new, more spacious homes.
Achill cottage (Photo © Wolfgang Riedesser)
The island is dotted with houses and farmsteads, old and new. Some modern buildings on the island are unsympathetic to the landscape and have created contention, not least the many holiday homes built over the last ten years with generous tax incentives. On the one hand, a boom in construction has provided much-needed employment for the local people, increased the demand for suitable development land and allows the island to support more tourists. On the other hand, many of these houses are built in prominent scenic areas and damage traditional views of the island while lying empty for most of the year. They may also be adversely affecting the traditional beneficiaries of tourism – B&Bs, guesthouses and pubs.
Achill has several beautiful beaches, but not even the Gulf Stream's influence is enough to make these North Atlantic waters comfortable for swimming. However, these scenic stretches of seashore are  ideal for  building sandcastles, exploring rock pools, searching for blackshells (mussels), long walks and pony rides. Some are also ideal for surfing.
Achill's harbours are important centres of commercial fishing activity, and also good places to hire boats for day trips, diving excursions, sea angling excursions and shark-hunting  safaris. Some also provide facilities for sailing craft.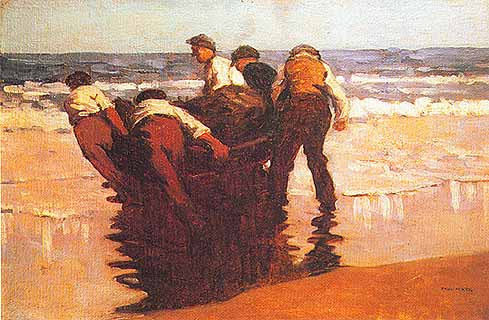 Launching the Curragh by Paul Henry
Artist Paul Henry stayed on Achill from 1910 to 1919, his most formative years. Some of his most famous paintings depict the dramatic landscape and traditional lifestyle of the island, as do works by Derek Hill and Charles Lamb.
The British novelist Graham Greene visited and stayed on Achill Island a number of times in the late 1940s with his mistress, Catherine Walston, who rented a primitive traditional stone cottage in Dooagh, since demolished. He wrote parts of the novels The Heart of the Matter (subsequently banned in Ireland) and The Fallen Idol in Dooagh, and is also said to have been inspired by the island's scenery to write some of his best poetry. He retained a special affection for Achill Island, which he mentioned frequently in his letters and notes.
Heinrich Böll (1917 – 1985), Germany's 1972 Nobel Prize winner, sent much time locally in the 1950s, and wrote about it in his Irisches Tagebuch ("Irish Journal"), the book primarily responsible for drawing German attention to Ireland. The Bölls later bought a cottage near Dugort, and members of the family lived in it periodically until 2001, then donated it to be used as an artists' residence for Irish and international working artists.
The Heinrich Böll Memorial Weekend took place at the beginning of May 2009 to celebrate what would have been the writer's 90th birthday. The anniversary will be commemorated by other events related to the author throughout this year, several scheduled as part of the island's various festivals.
Feile Siülódi Acla / Achill Walks Festival is an annual event held over three days in spring.
The annual Seafood Festival / Feile Bia na Mara is usually celebrated in the second / third week of July.
Scoil Acla, the oldest cultural summer school in Ireland, comprises a series of festivities, lectures and  events designed to promote Irish language, music, singing, dance, history and culture in general, held in various venues around the island every August
The Achill Yawl Festival /Cruinniú Bádóirí Acla runs from July to September each year, with races taking place at weekends and in the evenings (when tides allow) at various locations along Achill Sound.

Achill Boat by Paul Henry
The Achill Yawl is a traditional wooden sailing boat with a solid hull and a single mast. In recent years, partly due to the success of Cruinniú Bádóirí Acla, the vessel has enjoyed something of a revival.
Achill Tourism has an excellent selection of books about the island (also available online).
Achill Island 24/7 provides information on Achill's painters and writers.
Next: Sightseeing