Iorras Ainbhtheach
Iorras Ainbhtheach (sometimes corrupted to Iorras Aithneach) in the southernmost and largest of Connemara's peninsulas.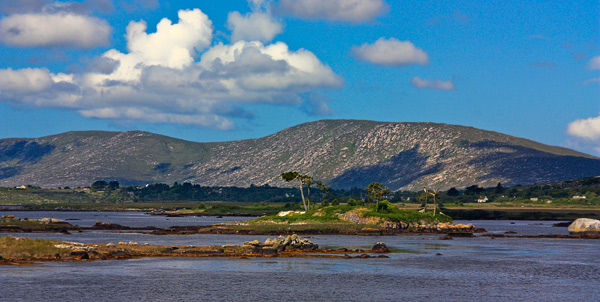 Cnoc Mordáin ("Hill of Mordan") (354m) is said to be named for a legendary sorcerer, thought by some to be the Welsh wizard Merrdyn / Merlin of Arthurian fame. This long ridge dominates the landscape of the peninsula. It is mainly composed of pinkish granite, and has been called a giant roche moutonée. (Photo by simon3)
Derryrush (Co. Galway / West)
Derryrush, although perhaps not quite "the jewel of Connemara" claimed by one estate agent selling holiday homes, is a scenic district with great sea views.  A trail along the ridge of Cnoc Mordáin starts here.
Derryrush was in the news in September 1851 when seven families comprising 42 individuals were evicted from their homes by agents of the Martin estates, who levelled the houses without resistance.
The local blanket bog, still harvested for peat, is scattered with granite boulders, of which The Chief is the largest in Connemara, popular with climbers specialising in bouldering.
Loughaconeera / Loch a conaoire / Conaorhta / Ui Chonaire ("Conery's lake") lies inland from the coastal road.
Flannery Bridge, spanning the Kilkieran Estuary,  a tidal creek on the north-west shore of Kilkieran Bay, was named in honour of Fr Thomas J Flannery (1853 – 1891), parish priest of nearby Carna, who was instrumental in the construction of both this bridge and another linking Maoinis / Mweenish Island to the mainland, and two local national schools. He also lobbied strongly for government investment in local forestry, piers and the railway.  The site is extraordinarily exposed and dangerous due to gusty winds. Originally erected in 1887, and replaced in 1954 and 2000, the bridge  is believed to be the only one in Ireland built / rebuilt in three successive centuries. One participant at the most recent dedication was the Inverin parish priest Fr Michael Flannery, a grand-nephew of Fr Thomas Flannery.
Coill Sáile / Kylesalia is a good location to stop for splendid views of land and sea.
Cill Chiaráin / Kilkieran (Co. Galway / West)
Cill Chiaráin / Kilkieran / Kilkerrin is a traditional Gaeltacht fishing community on the shore of the bay to which it gives its name.
The toponym derives from  Naomh Ciarán / Saint Kieran the Younger, (d. 545 AD), one of the Apostles of Ireland. He apparently spent some years living here before founding the great monastery of Clonmacnoise. His feast day is celebrated annually on 9th September at a local Holy Well, and the local church and National School are named after him.
Leaba Chiaráin ("Kieran's bed"), where the saint used to sleep, lies in front of a hilltop Cross erected in his honour, commanding scenic views of the whole district.
Cill Chiarán's harbour, protected by  a fine stone pier, is one of the deepest and most sheltered on the Connemara coast. There was a mail boat from Galway City to the pier in the late C19th, and turf was brought by traditional boat to the Aran Islands. A seaweed processing factory, established in the late 1940s close to the pier, is the longest established industry in the region.
Coláiste Sheoisaimh, Cill Chiaráin runs Irish language courses for secondary students in the local Community Centre during the summer and mid-term breaks.
Cill Chiarain plays host every year to the Connemara Triathlon.
Feenish / Finish Island can be reached on foot at low tide across a sandy stretch off the R340 between Cill Chiaráin and Carna.
Lough Scannive / Loch na Scainimhe is the location of three impressive crannógs and an interesting Standing Stone.
Carna / Carna (Co. Galway / West)
Carna is a small seaside Gaeltacht community where some 96% of the population are bilingual, using Irish Gelic as their first language and English as  their second. It is something of a tourist resort, with amenities including  two pubs, two hotels and various other dining and accommodation options.
Carna landscape with traditional thatched cottage. (Photo – www.shamrockcottages.co.uk)
Coláiste Sheoisaimh, Carna, runs Irish language courses in the local schoolhouse for pupils aged 10-14, who stay with host families.
Áras Shorcha Ní Ghuairim is an Irish-language educational centre run by NUI, Galway, which also operates a marine biology station on nearby Maínis / Mweenish Island and an atmospheric research station run by the university's experimental physics department at Mace Head.
Éamon a Búrc

Éamon a Búrc (1866–1942), was born in Carna to an Irish-speaking family , who in 1880 moved to the USA under the aegis of Kilkenny-born Archbishop John Ireland of  St Paul's, Minnesota, as part of a plan to fill up the prairie with Roman Catholic Irish and American families.

After a severe blizzard in October 1880, the condition of the Connemara refugees in Graceville became an international scandal. The a Búrc family was evicted from their claim and resettled in a Saint Paul shantytown dubbed the Connemara Patch.

Having lost a leg working on the railway, Éamon returned to Ireland and went to work as a tailor in the Gaeltacht village ofAill na Brónnear near his native Carna, where he soon developed a reputation as a seanchai.

In 1935 he was visited by representatives of the new Irish Folklore Commission, who recorded his repertoire of legends and folk poetry on a collection of Ediphone cylinders. The Encyclopaedia of Ireland states: "He was perhaps the finest storyteller collected from in the twentieth century. The longest folk-tale ever recorded in Ireland – taking three nights to tell and amounting to more than 30,000 words – was collected from him."
The Féile Chomórtha Joe Éinniú (Joe Heaney Commemorative Festival) is held every year in Carna in memory of Seosamh Ó hÉanaí / Joe Éinniú / Heaney (1919–1984), a locally born sean-nós singer who  spent much of his life living in England, Scotland and New York City, and the last two years as an artist-in-residence at the University of Washington in Seattle. Other well-known sean-nós singers from Carna include Dara Ban Mac Donnchadha and Michael Mhaire Ghadbh Ó Ceannabháin.
Maoinis / Mweenish Island, connected to Carna by a road bridge, is famed as a home of traditional boat builders.
Mace Head commands fine views of Oileán Mhic Dara / Cruach na Cara / St. Macdara's Island, venerated in honour of Saint Macdara, patron saint of fishermen and sailors in the area. He is credited with building the island's primitive C6th church, the unique stone roof of which was restored in 1977.  The saint's feast day is celebrated with a pilgrimage on 16th July, when people make their way to island for the celebration of Mass followed by a race of traditional boats.
Moyrus, nowadays best known for its magnificent white sandy beach, was once a place of some importance, giving its name to an extensive Civil parish that in 1837 had almost 10,000 inhabitants. The  early C19th Anglican church is now derelict.
St McDara's church, a late medieval ruin thought to stand on an early Christian site, has some interesting architectural features, including a fine East window and a southern door with a carved figure and plant motif.
Lough Bola contains an ancient stone crannóg.
A view of Bertraghboy Bay, Cashel Hill and the Bens from Glinsk. (Photo by tknorth)
Glinsce / Glinsk, a favourite spot for Connemara landscape painters, should not be confused with the location of the same name in northeastern County  Galway.
Gabhla / Gowla & Bunnahown (Co. Galway / West)
Gabhla / Gowla / Owengowla and Bunnahown are located next to Bertraghboy Bay, in a scenic area known for its desolate views of mountains, bogs and lakes, notably the almost circular Lough Anilleaun and Feaghroe Lough. Several holiday homes are available for rental.
Loch an Bui (Photo by tknorth)
Bunnahown is connected via scenic stretches of the R340 and the N59 toSraith Salach / Recess in Connemara's interior.