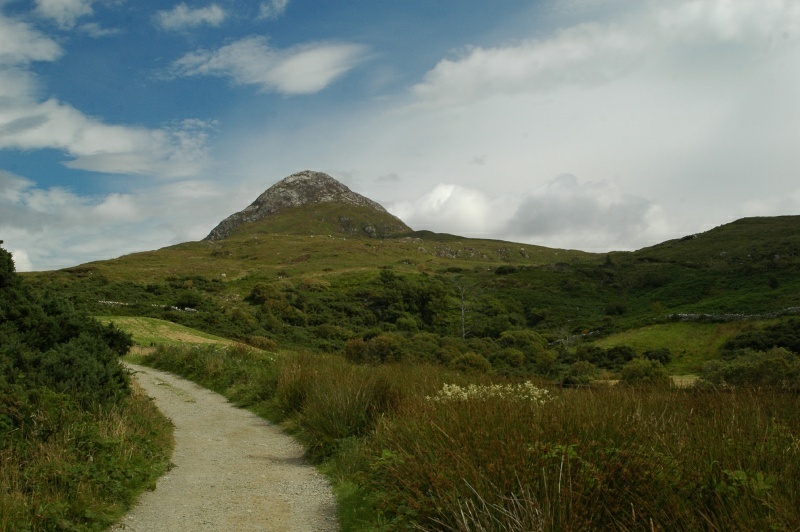 Diamond Hill / Binn Ghuaire ("Guaire's peak") (442m), aka Bengooria /  Benhoowirra, the westernmost peak of the Twelve Bens mountain range, is in Connemara National Park. (Photo – Sherwood Harrington)
The Dawros River flows down from Kylemore Lough, Pollacapul Lough and Bunnaboghee Lough into the sea at Derryinver. The lakes are jointly owned by Kylemore Abbey and Kylemore House.
Kylemore Abbey, church & gardens.

Mitchell Henry (1826 – 1910) was a Mancunian doctor whose interest in Ireland may have been due to the fact that his mother was from County Down, as was his wife Margaret (néeVaughan); they visited County Galway on their honeymoon in 1852 and were enchanted by the landscape of the area known as Kylemore (an anglicisation of Coill Mhór – "Great Wood").

In 1862 Henry inherited a large fortune from his cotton merchant father, whereupon he abandoned medicine in favour of finance and politics and purchased land from the Wilberforces, Grahams and others to create a vast estate, at one stage owning over 9000 acres; as an "improving" landlord, he introduced many agricultural innovations and social improvements. A Liberal, he sat in the UK Parliament as  MP for Galway County from 1871 to 1885, supporting the Irish Home Rule movement for most of his career.

Kylemore Castle, designed by architects James Franklin Fuller and Ussher Roberts, was begun in 1867 and took 100 workmen four years to complete at a cost of over £29,000; covering approximately 3,700 m2 / 40,000 ft2, with a 43m / 142ft facade  made of granite brought by sea from Dalkey  and limestone from Ballinasloe, the building initially contained 33 bedrooms (but only four bathrooms!), four sitting rooms, a ballroom,  a library, a study, a schoolroom, a smoking room, a billiard room, a gun room, a vast kitchen and sundry chambers for the butler, housekeeper, cook and other servants.

Having borne five daughters and four sons, Margaret died tragically at the age of 49, within 16 days of contracting dysentery while on a family holiday in Egypt in 1875. Her remains were brought back to Kylemore and laid to rest in the Mausoleum on the grounds, to be joined later by her husband's ashes.

By the turn of the C20th Henry had lost most of his fortune, and the Castle was acquired in 1903 for the notorious spendthrift parasite William Montagu, 9th Duke of Manchester and his first wife Lady Helena by her father, Eugene Zimmerman of Cincinatti, upon whose death the heavily mortgaged estate was taken over in 1914 by Ernest Fawke, a London banker, who installed a caretaker and land agent until a buyer was found.

A group of Benedictine nuns, whose convent at Ypres / Iepers, founded in 1665, had long enjoyed the patronage of many influential Irish families, but who had been exiled from Belgium at the beginning of WWI, purchased the buildings and grounds in 1920.

Kylemore Abbey has been run ever since as a prestigious international girls' school and a very successful tourist attraction, now open all year round. In addition to the main edifice, where four rooms have been restored for visitors to experience the atmosphere of the original castle and enjoy breathtaking views from the large picture windows, there are several other features of the estate to admire.

The Gothic church, a veritable "cathedral in miniature" reached by a lovely lakeside route, was erected by Mitchell Henry in memory of his beloved wife. Constructed between 1877 and 1881, it was  designed by  James Franklin Fuller, said to have been inspired by both Norwich Cathedral and the beautiful Chapel of St Stephen at Westminster. Set against the cream sandstone are stone pillars representing the different provinces of Ireland: green Connemara marble for Connacht, red Cork sandstone for Munster, black "Kilkenny marble" for Leinster and grey northern granite for Ulster. A beautiful stained glass window depicts Fortitude, Faith, Charity, Hope and Chastity.

The Victorian Walled Gardens, one mile west of the main building and reached by a wooodland route on foot or by shutttle bus, were amongst the last of their kind to be created in Ireland, and perhaps the only example located in the middle of a bog. Extending over six acres (24,000 m2), they were very advanced for their time, with a complex system of underground hot-water pipes to heat 21 glasshouses, of which two have been restored, along with the Head Gardener's House and Workmen's Bothy. Only plants cultivated in Victorian times are grown; currently, there is a vinery, banana trees, vegetables and herbs as well as a beautiful array of flowering shrubs etc.

The estate also has a Pottery Studio, a Craft Shop, a Restaurant and Tea Rooms serving homemade snacks for visitors to sample whilst enjoying the view of Diamond Hill.
Kylemore House, a landmark Georgian country house set in 20 acres of mature woodland on the shore of Lough Kylemore, was built in 1785 as a hunting and fishing lodge and developed c.1850 by the Rev. Joseph Duncan as a hotel; acquired by Lord Ardilaun, it was leased out by the Guinness family to Talbot Clifton and Oliver St John Gogarty. The drawing room, designed for a 21st birthday party in 1907, resembles a period art gallery. Currently run by Nancy Naughton as a boutique Guesthouse, it retains much of the original furniture, with renovated fixtures and fittings.
Kylemore Lodge, built c.1900 by the Guinness family on the lakeshore opposite Kylemore Castle, is now a pleasant B&B.
Lough Fee and Lough Muck are good lakes to fish for salmon, sea trout and small brown trout.
Killary Harbour

Killary Harbour/An Caoláire Rua, claimed as the largest fjord in the British Isles, is 16 km / 10 mi long and some 45m deep in the centre. (Photo taken from lower slopes of Mweelrea Mountain by Dr Charles Nelson)

Forming a natural border between counties Galway and Mayo, Killary was long cosidered one of only three glacial fjords in Ireland (the others being Lough Swilly and Carlingford Lough), but is nowadays regarded as a submerged valley.

Mentioned in shipping records from the C13th onwards, it was a hideaway of the daring smuggler George O'Malley in the late C18th, and sheltered both British submarines and German U-Boats during the C20th.

The Green Road, built as part of a C19th famine relief programme, is a rough trail running for approximately 9km along the southern side of Killary Harbour to Rosroe, a tiny hamlet near the mouth of the fjord.

The philosopher Ludwig Wittgenstein rented  a cottage near Rosroe as a quiet place to write shortly after World WarII; bearing a plaque unveiled by President Mary Robinson in 1993, the building is now a youth hostel.

Aquaculture is an important local industry, and mussel rafts are a common sight.
Leenane (Co. Galway / West)
Leenane / Leenaun (An Líonán –  "where the tide fills / ravine") is a crossroads village and townland in a valley between the mountains of Munterowen West and Devilsmother on the shore of Killary Harbour, dominated by Mweelrea Mountain (814m), the highest summit in Connacht. This popular beauty spot caters for visitors with a range of accommodation options, pubs and restaurants.
Leenane History

Although populated since prehistoric times, as evidenced by a megalithic tomb on Leenane Hill, the area received little mention before the late C18th.

From Cromwellian times onwards, most of the land in the area was owned by Trinity College, which sold or leased property to absentee landlords, while the inhabitants suffered unremitting poverty. Lazy Beds (potato drills) high on the barren mountains bear testimony to their struggle to produce food.

A coaching inn founded in 1796 became the focal point of the future hamlet, with two further clusters on Lettirbricaun and Lachan, subsequently almost completely eradicated by evictions and successive famines (the scenes of starvation in the Killary district described by the Society of Friends in 1847 make for hard reading).

The Victorian enthusiasm for excursions to beauty spots, coupled with the opening up of the West of Ireland by road and rail, allowed the former coaching inn to expand into a flourishing hotel, bringing increasing amounts of money into the area. The Congested Districts Board established a weaving school and set up a local weaving industry which operated from the hotel.

The planned village of Leenane did not come into existence until the 1880s.  A girls lace-making school was set up, which was visited by Queen Alexandra when she and her husband King Edward VII toured the area in 1903.

In the early decades of the C20th,as the Land Commission bought out landlords, tenant farmers began to receive the land they had farmed for generations .

Leenane was the setting for Jim Sheridan's 1990 film of John B Keane's 1965 play The Field, starring Richard Harris, and of Martin McDonagh's plays The Beauty Queen of Leenane and The Lonesome West.
The Leenane Hotel ***, having accommodated monarchs and other celebrities over the years, is still going strong; currently run by the third generation of the Foyle family, it was completely overhauled in 1996, and is particularly highly recommended for its restaurant, open to non-guests.
Leenane's bridge across the Lahiff River, erected c.1825 by the renowned Scottish civil engineer Alexander Nimmo, collapsed three times before a way was found to stabilise it. The span was finally swept away 182 years later by torrential floods in July 2007, and was replaced in 2009 at a cost of €2 million.
Leenane village has a couple of small grocery shops,  a Post Office and two pubs, Hamilton's Bar and Gaynors "The Field".
The Leenane Sheep & Wool Museum is housed in the former Leenane Culture Centre.
The Forge Craft Shop is the place to buy local handicrafts etc.
Leenane is on the route of the Western Way long-distance walking trail.
Leenane is linked by the R335 to Delphi (Co. Mayo) in the old barony of Murrisk.