Clonakilty Bay

View from Ring Head across Clonakilty Bay (Photo by Frank Donovan)

Clonakilty Bay extends from the Seven Heads Peninsula to Ringlea Point. This region was long the territory of the Corca Luighe, a powerful pre-Gaelic tribe ruled by the O'Driscoll clan, who were gradually pushed westwards by the O'Mahony clan of the Eoghanachta.

The area was later known as Tuath na Gcoillte – the country of the woods, home to many clans challenging one another for supremacy.  Anglo-Norman settlers included the De Courcy, De Barri, De Rupe / Roche and De Rochfort families who, isolated from centres of English culture, intermarried with the natives and gradually became Hibernicized. By the mid-C16th the MacCarthy clans controlled most of the region.

Ring was long the stronghold of the Arundels, Lords of the Strand, whose income was derived from charging for fishing rights.

Ring Pier near Ring Head is where adolescent swans like to hang out. The cygnets are raised at Gullane lake and since, like the ugly ducklings they aren't, they cannot yet fly, they are led by their parents on foot down the main road to the water at this point.

Clonakilty Bay is famous for its diversity of birds, from ducks and waders to sandpipers, Marsh Harriers and owls.

The bay has several excellent beaches and numerous hidden coves. Leisure craft and windsurfing equipment are available for hire locally.

Inchydoney (often misspelled Inchadoney) is a small island, long connected to the mainland by two causeways. Notorious for a historic massacre, the island is nowadays popular for walking and wind-surfing. Inchydoney`s generous beach has achieved coveted Blue Flag status. Lifeguards are on duty at the weekends in summer.

Dunnycove Bay features a fine sandy beach, and is also a good place for rock fishing.
Clonakilty (Co. Cork / Southwest)
Clonakilty (Cloich Na Coillte sometimes Cloch Na gCoillte – "Stone / Castle of the Woods", or Clogh Na Kylte – the Kilty Stone) (pop. 4,000) is an attractive harbour town at the mouth of the River Feale / Fealge.  The centre of the town is picturesque, with exceptionally clean and tidy streets, beautifully restored old stone buildings and storefronts painted in bright colours and decorated with hanging baskets of flowers and greenery. (Photo by Dave Parker)
In 2003 Clonakilty became Ireland's first official Fair Trade Town. The best blood puddings (black and white) in Ireland come from here.
Clonakilty History

Medieval references exist to Cloghannakiltee and Cloghnagoilty, and also to Kylte Castle, but the settlement was not important as such; nearby Kilgarriffe appears to have been the main commercial centre, chartered to hold fairs by King Edward I.

Although an early C17th document refers to "the Portreeve and Corporation of Cloughnakilty", the town was only formally incorporated by Royal Charter in 1613 (with a "Sovereign" rather than a Mayor) under the aegis of Richard Boyle, the future "Great" Earl of Cork, whose  family controlled the municipality for the next three centuries.

The town's principal inhabitants were English Puritan families (mainly from Somerset) brought in to settle the district as part of the Munster Plantation. On the breaking out of the 1641 Rebellion, the settlers who did not flee to Bandon were imprisoned in the old Market House. In 1642, Scottish troops stationed in the town were attacked and cut to pieces by natives, who were then forced by English militia onto Inchydoney Island, where "the tide coming in, upwards of 600 of them were drowned."

Henry Boyle, powerful Speaker of the Irish House of Commons and Lord Chief Justice of Ireland, who spearheaded Anglo-Irish politicians' resistance to London, was made Earl of Shannon in 1756.

In 1796, after the ill-fated French landing at Bantry Bay, prisoners were marched through Clonakilty and nearby Shannonvale on their way to Cork gaol.

The only Munster rising in the 1798 Rebellion took place in Shannonvale, led by Tadgh O' Donovan Asna. The rebels who were killed were thrown into the sea at what is now known as Croppies Quay. Afterwards, the Sovereign and chief magistrate, the Rev. Horatio Townsend, addressed the Roman Catholic congregation as follows: "Deluded, but still, dear countrymen; I wish to refer to the events of last Tuesday – the day on which so many of you rushed down upon the Westmeath Militia with the vain hope of finding support in their disaffection. Surely you are not foolish enough to think that society could exist without Landlords and Magistrates. Be persuaded that it is quite out of the sphere of country farmers and tradesmen to set up as politicians, reformers and lawmakers. Reflect with remorse on the sanguinary designs for which you forged so many abominable pikes. Yield up to justice your leaders and the scandal you have brought on your country will in time be wiped away."

1798 was also the year a Penal Law era Roman Catholic chapel collapsed, killing two Massgoers and injuring many more.

The Great Famine had a devestating impact on West Cork; "Clonakilty, God Help Us" became the last resort for hundreds of destitute peasants, as local townlands saw their populations massively reduced by starvation, disease and emigration. In 1847, the old Town Hall was attacked by a starving mob who tore down the tower.

Several local landlords (Bence.Jones of Lisselan, Francis Bennetand Miss Hungerford of the Island) were notoriously ruthless in evicting tenants for non-payment of rent, irrespective of their circumstances, leading to strong resentment and violent resistance during the Land Wars.

Clonakilty has important Fenian and Nationalist associations, notably strong family ties with Jeremiah O'Donovan Rossa and his friend Pat "Rocky Mountain" O'Brien..

The most famous local was undoubtedly Michael Collins, who was born in 1890 near Sam's Cross (named after Sam Wallace, a legendary local outlaw).

The War of Independence saw the burning of Clanakilty's old Courthouse (1825) and military Barracks (both since restored, the latter as the local Garda HQ).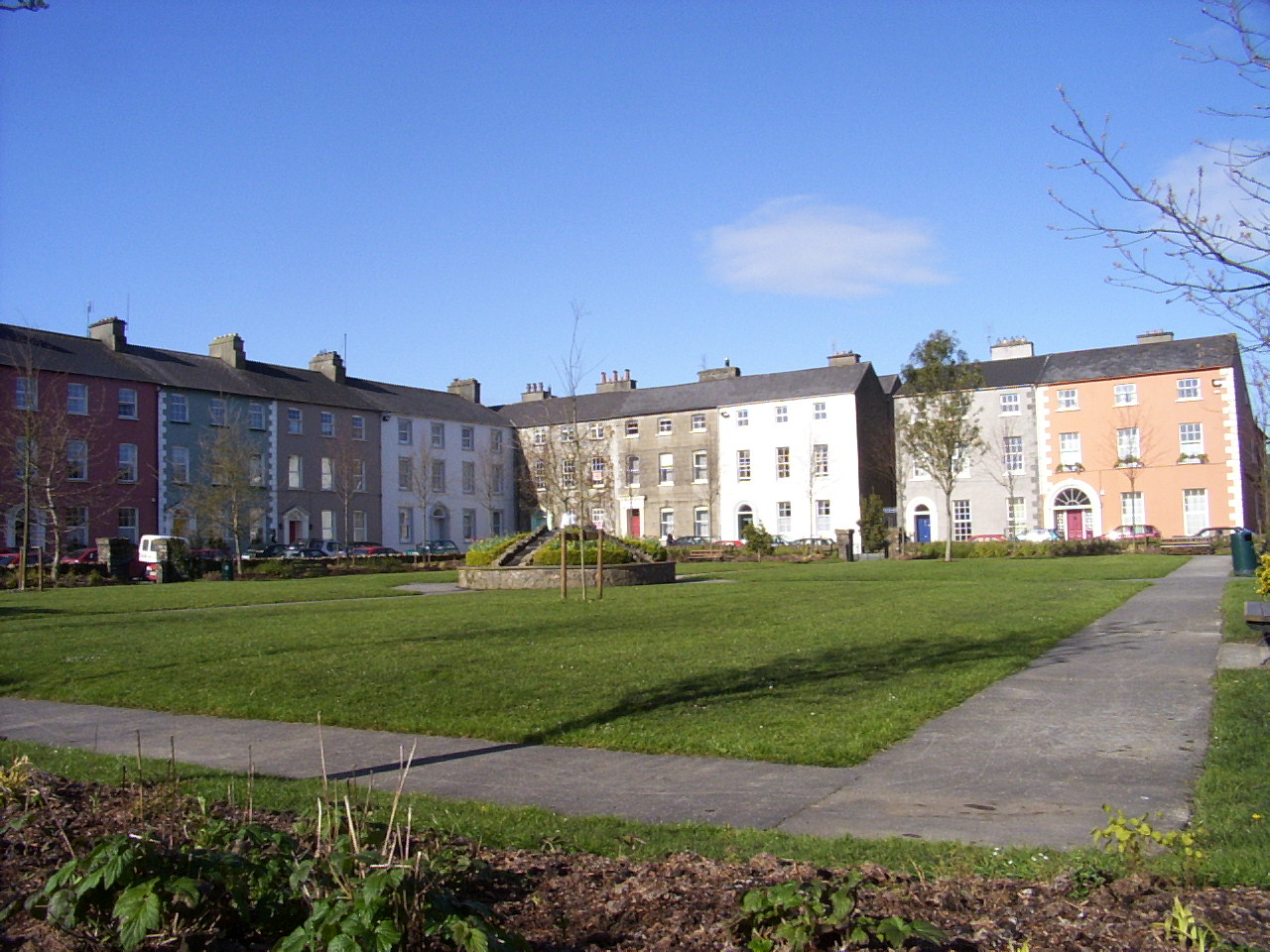 Emmet Square (formerly Shannon Square, or simply The Square) features elegant Georgian townhouses built between 1785 and 1810 by rich local merchants at the height of the thriving local linen industry, subsequently killed off by British legislation. From 1895 to 1988 Nº 11 was occupied by the Carbery Club, an old-fashioned gentlemen's club. (Photo by John Hayes)
Kilgarriffe church (CoI) was built in 1818 on an eminence overlooking the town. (It replaced a much older building, now in ruins, believed to have been the location of the first markets chartered by King Edward I and still used as a burial ground until quite recently. There are several interesting gravestones, including that of Jeremiah Hanglin (d.1769) whose Anglin descendants prospered in Canada).
Clonakilty Methodist church on Kent St. (formerly Meeting House Lane) was built in 1860 by James FitzPatrick on the site of the original edifice erected in 1812. The Montessori school next door is used at weekends for Bible Study, Sunday School, Boys' Brigade etc. The Minister is Rev. Moba Mwanzele. The Methodist congregation in Clanakilty has strong traditional roots and is well respected.
The former Presbyterian church (1861) has been the town's Post Office since 1924.
The church of the Immaculate Conception (RC), built in 1880 to a design by GC Ashlin, is an architectural jewel, comparable with his (joint) masterpiece, the Cathedral in Cobh.
Clonakilty / West Cork Regional Museum, housed in the former Methodist National School (1884), has interesting artefacts, photographs and documents on display.
Cork County Council shares a fine renovated mill with the local Library, which is well worth visiting.
Other interesting buildings in Clonakilty include the restored Courthouse, the Halla an Bhaille (Town Hall) and the nearby Linen Hall, built c.1800 by the then Earl of Shannon; this was the main centre of trade in the early C19th.
The Wheel of Fortune is the popular name of a C19th water pump, erected by the same Lord Shannon.
Clonakilty's old Quays, though largely redeveloped, remain atmospheric. The attractively landscaped Croppies' Quay was where the bodies of the insurgents killed in 1798 were disposed of.
Clonakilty's central Asna Square, laid out in 1983, features a statue of Munster's only 1798 Rebellion leader. Nearby is the Kilty Stone, from which the town supposedly derives its name; this legendary rock has occupied various locations over the centuries.  It is widely believed to be from Kylte Castle, the stronghold of the town's Norman founders, of which nothing else remains.
Clonakilty has several excellent restaurants and pubs (notably An Súgán , the Courthouse Tavern and DeBarras); several double as venues for top-class traditional Irish, blues, jazz and contemporary music.
Clonakilty Hotels

Clonakilty has quite a range of hotels, varying in price and quality (one old establishment that shall remain nameless apparently "made Fawlty Towers look like the Ritz").  Several focus primarily on weddings etc., and so are less likely to be of interest to ByRouters.

O'Donovan's Hotel / Óstán Ui Dhonnobháinn on Pearse St. (formerly Sovereign Lane) was the site of a speech by Charles Stewart Parnell to a large gathering here after he was led into town by a fife and drum band in March 1880.

A rare film clip shows one of Michael Collins' many orations to his fellow townspeople outside the hotel.

Another set of interesting visitors were the crew of an American Flying Fortress called "T'aint a Bird" that crash-landed nearby in 1943. After several days of carnival atmosphere, the plane was able to take off for England, leaving behind the crew's pet monkey Tojo, who lived for many years and was buried in the Hotel's yard with full military honours.

The hotel, now run by the fifth generation of the O'Donovan family, has a pleasant old-fashioned ambience, but thoroughly modern facilities, and is highly recommended as a place to stay.

The Clonakilty Hotel on Wolfe Tone St., another family run establishment, also has an elegant old-world atmosphere, and offers very good value accomodation deals out of season.

O'Keeffe's Emmet Hotel in Emmet Square is a live music venue with a beer garden and a niteclub called the Bubble Lounge.

The Quality Hotel & Leisure Centre on Clogheen Rd. rents out self-catering holiday homes.
The Tsu Tsu is an old-fashioned "train" that circulates during the summer months, taking passengers between the town and nearby Inchydoney.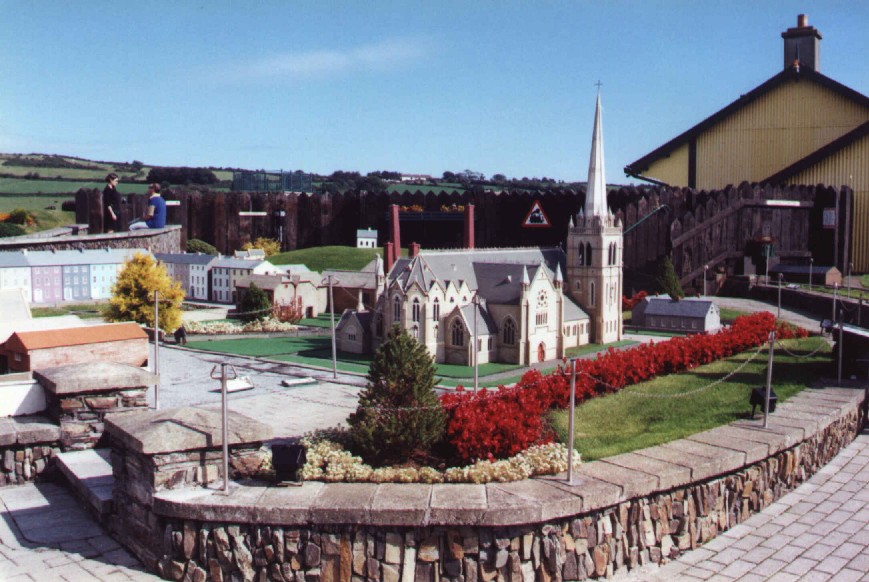 The West Cork Model Railway Village, the first of its kind in Ireland, is a re-creation in miniature of the defunct West Cork Railway line as it was in the 1940s, with accurate models of buildings, villages and towns en route. (Photo by John Hayes)
The surrounding hills contain several interesting ancient sites and Norman castles.
Tawnies is the site of a splendid líos.
Shannonvale is a village and district in the Argideen River valley, recommended for scenic walks.
The Temlebryan Stone Circle comprises five stones, the tallest measuring 7ft. Some contend that the real Cloch Na gCoillte is one of these stones. Nearby there is a later Ogham stone and the remnants of an early Christian chapel.
The Michael Collins Centre (formerly the Argideen Valley Heritage Park) is devoted entirely to the life and death of the IRA founder and Irish Free State leader, with a lifesize replica of the scene of his assassination.
The Lisnagun Ring Fort / Lios-na-gCon ("Ring Fort of the Hound") is a well-restored and educational example of this type of defensive farm dwelling.
Lisnagun Animal Park has a pathway meandering under shady trees along the banks of streams, over bridges and around waterfalls, past enclosures of various domestic and wild animals, each in specially designed accommodation: the pigs live in a cottage, the fowl in a log cabin, the pheasants in an alpine lodge etc.
Lisselan

Lisselan House, a chateau-style mansion overlooking the Argideen River, was built in 1851/53 by William Bence-Jones to a design by Lewis Vuliamy. A  wing and gate lodge added later were designed by Sir Thomas Newenham Deane. The Conservatory, built for the Cork Exhibition of 1902, was restored in 1992.

Lisselan Gardens, comprising 30 beauiful acres on both sides of the river, were largely laid out by Bence-Jones and his wife in the Robinsonian style, and are still continually being extended and improved.

The Lisselan Estate is a working farm with a high reputation for breeding racehorses, and also home to a herd of 100 Holstein cows, but is marred by a golf course.

The Henry Ford Ancestral Site is located on the estate. Henry Ford's father William, born in Ballinscarthy, emigrated to America in 1847. A museum with art gallery is planned; it will include a number of Vintage Ford Vehicles, already on display in Lisselan Gardens.
Clonakilty is
Dirk Bay is just beyond the western end of Clonakilty Bay.
Red Strand is a pleasantly tranquil sandy beach fringed with rock pools.