Skibbereen (Co. Cork / Southeast)
Skibbereen (often shortened to "Skib") (An Sciobairín – "little boat harbour") (pop. 2000), known as the capital of the Carberies (most of West Cork), is an  attractive market town set on a bend in the River Ilen, close to the head of the estuary.
Skibbereen's well laid out streets and lanes are dominated by late Georgian and Victorian architecture, with several elegant public buildings, private residences and ornately crafted shopfronts. The atmospheric old riverside quays, formerly used by fishing boats and small merchantmen, are currently undergoing restoration.
Skibbereen shop (Photo by bowbrick)
Although the site of the first ever meeting of the Temperence Society in 1817 and of Europe's first Temperence Hall (1833), Skibbereen now has no less than 26 pubs. There are also several good eateries, hotels and B&Bs.
The Skibbereen area is very fashionable amongst celebrities, and the district is home at least part of the year to rich folk such Dr. Tony O'Reilly, lateral-thinker Edward de Bono, film director Lord David Puttnam, actor Jeremy Irons and others, while recent vacationers have included obnoxious pop stars Oasis and the Blair family. As a result, local prices rival Monaco's.
Skibbereen History

Skibbereen was founded by refugees from Baltimore, mainly English colonists, after the 1631 Barbary pirate raid. Prior to 1600 most of the land in the region belonged to the MacCarthy, O'Driscoll and O'Sullivan clans, and these remain the town's most common surnames.

The Williamite War saw a local "engagement" at which militia headed by Col. Becher routed a Jacobite force. Three years later the local customs house was attacked by a party of about 40 rapparees.

Daniel O'Connell presided at a Monster Meeting in Skibbereen in July 1842. "Prior to the meeting he lodged with Fr. Doheney P.P. Dunmanway and travelled with him by coach and four, as they approached Skibbereen they were feted by a procession made up of bakers, blacksmiths, shoemakers, tailors and weavers preceded by a band. The Liberator's carriage was followed by those of gentlemen and clergy." He started the address in Irish and then switched to English. It was regarded as the largest crowd ever to gather in West Cork.

The Great Famine saw appalling suffering in the area. Soup kitchens were set up and relief works were instituted, but conditions grew steadily worse. People crawling into Skibbereen from the country in search of food died on the roadside ditches.

The Workhouse, built to hold only 800 people, eventually had 1449 inmates, and had to be closed against any more; the mortality there was frightful, with as many as 65 deaths in one week. Corpses were carried to the graves in reusable coffins with hinged bottoms.

The local Church of Ireland Rector, Rev. Richard Boyle Townsend, worked manfully to alleviate the distress, only to fall victim himself to the famine fever; he died on 7th May, 1850, and received a public funeral, so much was he respected by all classes and creeds for his help; he was by no means the only volunteer to die.

On a slightly less gloomy note, it was reported that an unnamed boy who was taken for dead regained consciousness as he was lowered into the pit and walked unaided from the grave.

A well-known popular song about the Famine is called Dear Old Skibbereen.

Jeremiah O'Donovan Rossa was a shopkeeper in Skibbereen in 1856 when he established the Phoenix National and Literary Society, the stated aim of which was "the liberation of Ireland by force of arms". This charming organisation later merged with the Irish Republican Brotherhood (IRB), founded two years later in Dublin.

Skibbereen had such a strong Fenian movement that that its imprisoned members in Dublin's Mountjoy gaol were said to outnumber those from any other town in Ireland. It was a Skibbereen man, Gearoid O' Sullivan, who raised the Irish tricolour over the GPO in Dublin in 1916.

In 1873, the local newspaper famously declared "The Skibbereen Eagle is keeping an eye on the Czar of Russia" (a comparable attitude problem was iadvertently revealed by The Times' famous 1919 headline"Fog in Channel; Continent Cut Off").

Willie Kingston (1885-1965), a Skibbereen solicitor, was born locally into a Methodist family. In his published Memoirs, he explained that he had sympathised with the objects of Sinn Féinbut abhorred the brutalities committed by both sides during the War of Independence. In April 1922 there was a wave of killings by Irregulars, and it was rumoured there was to be a general massacre of Protestants. He described the train from Cork to Dublin full of frightened Protestants going to Dublin or England.
The Skibbereen Heritage Centre is very interesting, and organises escorted evening Historical Walking Tours of the town.
Abbeystrewery, the site of a ruined C14th Cisterian foundation, is the location of the Famine Burial Pits, said to contain as many as 10,000 victims of the Great Famine.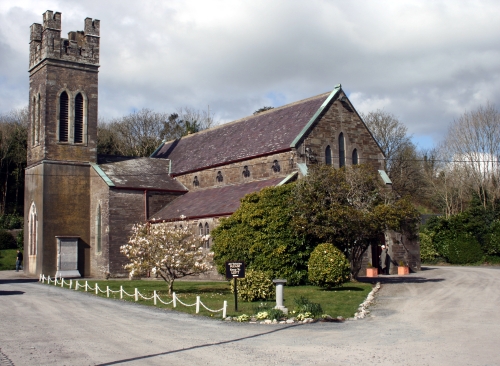 Abbeystrewery parish church (CoI) is a charming edifice built in 1826. A statue at the gate commemorates Canon James Goodman (d.1896), widely respected in his day as an Uillean piper and collector of traditional melodies, who as Professor of Music at Trinity College Dublin had a major influence on future President Douglas Hyde and playwright John Millingtn Synge. (Photo by Donal O'Caoimh)
St. Patrick's pro-cathedral, designed in a neo-classical style by Michael Augustine O'Riordan and completed in 1830, is the cathedral church of the Roman Catholic diocese of Ross.
The Convent of Mercy has a beautiful chapel designed by EW Pugin and CG Ashlin 1n 1867.
Skibbereen's centrally located and historically significant Methodist church, converted into a restaurant, and the neighbouring Masonic Hall were extensively damaged by an arson attack in 2006 – the biggest fire in local history. Fortunately, the Methodist congregation had already acquired a new building on the outskirts of the town.
The West Cork Arts Centre displays paintings & sculptures by the very cospopolitan artistic set in the area.
Liss Ard

Liss Ard, a 200-acre estate on Lake Abisdealy, planted with 10,000 trees and shrubs by Claudia and Veith Meister-Turske, offers a distinctly New Age ambience.  The grounds are segmented according to the four "elements" of water, wood, stone and sky, and designed to heighten visitors' sensory perceptions.

Crater, a light-enhancing installation designed by  American artist James Turrell and Swiss architect Gert Burla, is the location of the Irish Sky Garden, accessed via a subterranean passage.

The ornamental gardens, laid out in 1924, feature ponds, streams and a beautiful waterfall.

Formerly run as a full service hotel, Liss Ard House, a Georgian country manor, together with its adjacent Walled Garden House and the Victoran Liss Ard Lake Lodge, still provide accomodation and dining facilities. Ecstatically reviewed by magazines like Vogue, the living areas are laid out in an austere Zen style, with all-white linens and furnishings, meditation lofts, spa bathrooms, and little else to detract from the natural beauty of the surroundings. Guests have included Lou Reed, Van Morrison, Patti Smith and Nick Cave.
Lassanroe Garden, created in 2000, contains an extensie collection of decorative bamboos. The plantings also embrace large 'Restios' and embryo collections of tender woody plants. A stepping stone path leads to a secluded teahouse. There is also an organic vegetable garden and espaliered apple orchard.
Kilcoe Castle

Kilcoe Castle, the most westerly MacCarthy stronghold, was built c.1450 on a 2-acre island site chosen for its defensive advantages; one side is too shallow for big boats, while the other is sheltered by Mannin Island. (Photo by Richard Bradfield)

In 1600 it was besieged by Sir Richard Perry, who succeeded only in stealing 300 heads of cattle, and the castle survived several other attacks to become the last in West Cork to be taken by the English in Sir George Carew's "pacification" campaign. It finally fell in February 1603 to Captain George Flower. One version of the story is recounted in a (very bad) poem called The Siege of Kilcoe.

The castle was occupied by English colonists until 1640, and thereafter left to rot. A local farmer registered ownership in 1972, and a subseqent owner built a bridge connecting the island to the mainland, but the castle remained derelict.

The current owners, actors Jeremy Irons and Sinéad Cusack, spent vast amounts restoring it. At one stage there was uproar when they appeared to have painted the castle a "Mexican" pink or orange, but the terracotta rust limewash has since mellowed to the intended historically correct shade.
Cunnamore Pier is the mainland dis/embarkation point for the ferry link wih Heir Island in Roaringwater Bay.
Rincolisky Castle & Whitehall House

Rincolisky (Whitehall) Castle is a Tower House built in 1495 by the O'Driscoll clan.

Following the Battle of Kinsale at the end of 1601, Crown forces under Sir George Carew began a sweep of all castles throughout West Cork, and took Rincolisky on 29th April 1602 with little difficulty.

George Tuchet, the future Earl of Castle Haven, sold the land to Sir Walter Coppinger, whose descendants knocked down the upper floors of the derelict castle for stones to build Whitehall House on a hillock near the shore. The Coppingers forfeited the property 90 years later because they supported King James II in the Williamite War. The estate was acquired by Samuel Townsend and remained in his family's possession for several generations.

Since then the castle has been touched only by the natural elements. Entry to the residential part of the building is through a nicely carved door above the basement entrance. From this a mural stairs lead upwards, and the main hall has an arched ceiling that is in perfect condition.

Some say that there is a tunnel beteen the house and the castle. Legend has it that one of the Townsends sent his little pageboy down the passage to see if it was clear, and the lad was never seen again.

Whitehall House as it now stands is mainly a C19th construction, marred by modern windows. Commanding a wonderful view of Carbery's 100 Isles in Roaringwater Bay, it is probably the holiday residence of some rock star or screen idol.