iar Connacht – Connemara (Interior)
Oorid Lough, an impressive lake just over 2 miles west Maam Cross, forms part of the traditional eastern frontier of Connemara proper. The top lough on the Owenmore / Ballynahinch River system, it is mainly a sea-trout fishery, with a reputation for producing big fish, especially near the small island. Recommended flies have marvellous names like Claret Bumble, Bumble Invicta, Green Peter, Daddy, Bibio, Watson's Fancy, Kingsmill and Bloody Butcher. (Photo by Bulbi59)
Recess (Co. Galway / West)
Recess (Sraith Saileach – "stream of the willow tree" / dirty stream"),  sometimes described as "an oasis in the wilderness", was a traditional stopping-off point and is now a hiking and angling resort with a wide range of accommodation options.
Set among superbly rugged scenery, the pretty village it is situated on the edge of Glendalough, a beautiful fishing lake.
St Patrick's church (RC). (Photo – James Yardley).
Recess railway station, a stop on the old Galway – Clifden line, opened on 1st July 1895 and finally closed on 29th April 1935. It is said that this stretch of the railway took many years to construct due to the difficult terrain.
Connemara Marble quarries on the lower slopes of the adjacent mountain ranges provide access to viewing points commanding majestic vistas.
The Inagh Valley divides the Maamturk range from the Twelve Bens. Remarkably shaped mountains such as Derryclare / Binn Doire Chláir (677m) tower over lakes bordered with conifers in an otherwise flat treeless landscape (only 30m above sea level), making for scenery of  bleak  grandeur. Before the Great Famine, this vale was well populated by cottiers.
Derryclare Lough and Lough Inagh are legendary amongst anglers for their spring salmon, grilse and sea trout.
Lough Inagh Lodge ****, orignally a lakeshore fishing lodge built by the Berridge family in 1880, is now a highly recommended manor hotel, known for its country house atmosphere and excellent meals.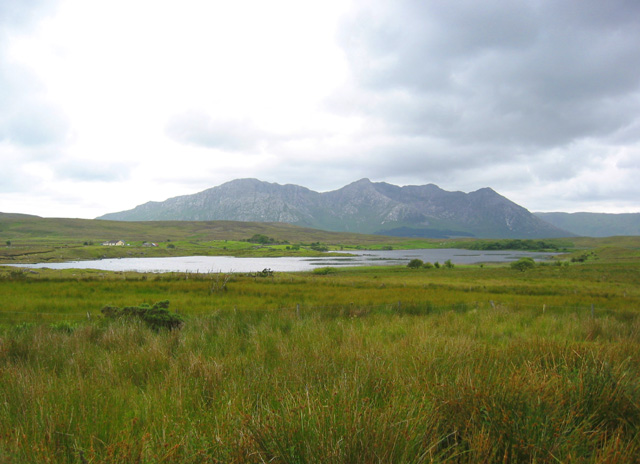 Lehanagh Lough & the Twelve Bens (Photo by Expresso Addict)
Ballynahinch (Co. Galway / West)
Ballynahinch / Ballinahinch (Baile na hInse – "the settlement of the island", referring to a community that once lived in the middle of the local lake) is a townland that, when County Galway was shired in 1587, gave its name to the entire new Barony covering almost all of the traditional territory of Connemara.
The entire district is dominated by the Twelve Bens, notably Bencorr (710m), and is famed for its magnificent scenery.l
Ballynahinch Lake, at the foot of Benlettery (580m) is the most southerly of a chain of lakes that enclose the Bens on the south and east, and the lowest lough on the Owenmore / Ballynahinch River. It is the best known of several top class fishing lakes in the area.
Ballynahinch Castle

Ballynahinch Castle Hotel ****,established in 1946,  is considered the top fishing hotel in Ireland. Set  in 450 acres of beautiful woodlands, it has 10km of river and lakeside paths, terraced lawns and a walled garden with a labarynth and tennis courts, plus facilities for and fly-fishing for salmon on the famous river and lake angling for trout; the hotel's restaurant is also renowned for its superb cuisine. (Photo –www.igougo.com)




Founded on the shore of Lough Ballynahinch as an O'Flaherty stronghold, the original castle may once have been lived in by Grace O'Nalley / Granuaille.

Rebuilt in 1684, the Castle became the home of a branch of the Martyn / Martin family, one of the powerful 14 Tribes of Galway, who came to own the largest estate in Ireland and effectively ruled Connemara for well over a century.

The Castle was the birthplace of Richard Martin (1754 – 1834), a "Regency buck" who travelled extensively and as a duellist came to be known as "'Hairtrigger' Dick". As an MP in the Irish Parliament he voted for the Act of Union, which he later regretted. At Westminster he supported Catholic Emancipation and promoted the Martin Act, prohibiting cruelty to large animals,  and was rechristened "'Humanity' Dick" by his friend King George IV for his role in founding the RSPCA. An election scandal forced him to spend his last years in exile in France with his second wife and two daughters, one of whom was the novelist Harriet Letitia Martin.

Mary Letitia Martin (b.1815), only child of Thomas Barnwell Martin (severely injured during Wellington's siege of Badajoz in 1812) and granddaughter of the duelling philanthropist, was a writer who published her first novel in 1845. Educated at home and by herself, she was fluent in  English, Irish, French and a number of other languages. According to Maria Edgeworth, who had met her during her 1833 tour of Connemara, she was courted in 1834 by Count Adolphe de Werdinsky, whom she had met in London earlier that year; upon her refusal of marriage, he feigned a suicide attempt at Ballynahinch.

In 1847, at the height of the Great Famine, she married her cousin Col. Arthur Gonne Bell, who took the name of Martin on marriage. Mary's father died of famine fever contracted while visiting the Clifden workhouse, and she inherited a heavily encumbered estate of 200,000 acres (810 km2). In the following two years she spent all her remaining fortune attempting to alleviate the suffering of her tenants. Penniless, she emigrated with her husband to Belgium, where she contributed to a number of periodicals, notably Encyclopaedie Des Gens Du Monde. Her autobiographical novel Julia Howard was published in 1850, and in the same year she and her husband sailed for America, but she died ten days after arriving in New York following a premature confinement on board ship. The baby did not survive and her husband returned to England where he was killed in a railway accident in 1883.

HRH Prince Kumar Shri Ranjitsinhji Vibhaji Jadeja (1872 – 1933), Maharaja Jam Sahib of Nawanager, the most famous cricket player of his generation and the first non-Briton to play test cricket for England, became the first head of state to make an official visit to the newly-founded Irish Free State on July 17th 1924. "Ranji" was met in Dublin by Ireland's first Taoiseach, WT Cosgrave, and travelled West in his private train carriage to indulge his passion for fly-fishing at Ballynahinch Castle as a guest of the Berridge family, who owned the estate at the time.

The Maharaja fell in love with Connemara, and felt so at home in the area that he purchased the estate, returning every year amidst great local celebrations with bonfires and fire crackers placed on the railway line for his arrival. He was responsible for most of the landscaping of the grounds and the erection of the fishing piers and huts along the river. A Connemara Pony enthusiast, he attended the Roundstone Pony Show annually. Ranji was popular with his staff, as he used to bring a new motor car with him every year and donate it to one of them when he left at the end of the season.
Ballynahinch railway station, on the former line linking Galway City with Clifden, opened in November 1895, finally closing in April 1935.
Ballynahinch is not far off the N59 to Clifden and is close to Toombeola Bridge, both on ByRoute 1.
(Connemara after the Famine: Journal of a Survey of the Martin Estate, 1853 by Thomas Colville Scott, edited & introduced by Tim Robinson, was reprinted in 2005. Written by a cocksure young Scotsman sent to survey the remains of the Martin estate by its mortgagee, the London Law Life Insurance Society, already responsible for evicting many tenants, this volume contains descriptions and accounts that are by turns shocking, banal, comic, tragic, bigoted, idealistic, cynical, sentimental and insightful.)