Dunlavin & Rathsallagh (Co. Wicklow / West)
Dunlavin (Dún Leamhán – "Fort of the Elm Tree") (pop. 1220), a classic example of a grandiose estate town, with unusually wide streets forming an expansive T-junction, has a couple of good pubs.
Dunlavin's modern history began with Dr Launcelot Bulkeley, the Anglican Archbishop of Dublin, whose family arrived in the area from Cheshire (via North Wales) in the late C17th. In 1702 Heather Bulkely married James Worth – Tynte, thus beginning the long association of Dunlavin with the Tynte family. An extract from a document written in 1709 reads: "Dunlavin, a dirty village, but prettily situated on a hill belonging to Sir Richard Buckley [sic] who talked of establishing a university and building a college here; nay, went so far as to have the bricks burnt for this purpose, but I think that project is now at an end….".
Dunlavin's Market House was built c.1740 by Robert Tynte (c.1700 – c.1770). This central landmark, currently used as a courthouse and library, has colourful cultural and historical associations, and is the focal point of the annual Dunlavin Arts Festival, held every June. (Photo – Mfriese32)
The Fair Green, primarily a cattle market, was the scene of a massacre during the 1798 Rebellion. 28 members of the local militia, imprisoned in the Market House as rebel sympathisers, were marched with eight civilian suspects to this spot on 25thMay and summarily executed, evidently in revenge for the deaths of soldiers and yeomen killed by insurgents the previous day in Prosperous (Co. Kildare). Several more men were hanged from the Market House. A monument was erected on the site in 1950 and another was installed in the grounds of the adjacent church in 1998; the tragedy is also the subject of the well known ballad Dunlavin Green.
The Great Famine was a time of terrible suffering in Dunlavin. The village lost about 25% of its people and the whole parish lost nearly 40% of its inhabitants between 1845 and 1850. The post-famine years witnessed continuing emigration and many young people left the area never to return, a trend that continued right up to the 1950s.
St Nicholas church (CoI) was built in 1815 to replace an early C18th church constructed under the supervision of Jonathan Swift, who was appointed to the prebendary of Dunlavin in 1700. The well-maintained churchyard contains several interesting graves.
The church of St Nicholas of Myra (RC), a charming edifice, was also built in 1815, on land gifted by Lady Hannah Tynte-Caldwell.
Tynte House is a lovingly preserved early C19thbuilding on Dunlavin's main street, now run as a friendly and cosmopolitan Guesthouse with additional self-catering accommodation facilities.
Grangebeg House, a very elegant C18th Country House with extensive grounds, was built by the Warren family, connected to the Eustaces and Wesley / Wellesleys; the Duke of Wellington's mother Ann lived here before her death. Nowadays it is run by Mrs. Aine McGrane as a farm, Guesthouse and Equestrian Centre.
Tynte Park, a handsome Classical Georgian house built in 1820 by the Tynte family, who retained ownership until 1974, is still a private residence. It has long been the site of an annual lawn meet of the Kildare Hunt. Although not particularly large, it has extensive grounds and beautiful gardens, and was bought for 12 million Euros by a local Auctioneer during the Celtic Tiger era.
Rathsallagh House, built c.1703 by the Ryves family, was destroyed in 1802 by a fire which many claimed was not accidental. Lacking funds to rebuild, the owners moved into the converted Queen Anne stable block, acquired in 1834 by the notorious Chief Justice Pennefather which is now Rathsallagh House Hotel & Golf Club. Despite its golf course and helipad, Rathsallagh is very attractive, with a lovely walled garden, extensive paddocks, and an exceptionally good restaurant.
Turtle Bunbury's fascinating history of Rathsallagh and environs can be read here.
Dunlavin is within easy reach of Calverstown, Narraghmore, Crookstown and Ballitore(Co. Kildare) on ByRoute 6.
Grange Con (Co. Wicklow / West)
Grange Con / Grangecon (Gráinseach Choinn– "Granary of the Hound") (pop. 200) is a very pleasant little village with two pubs, one of which is also the local grocery. The district has an unusually high population of artists and designers.
A recently constructed Roman Catholic church stands in the centre of the village, while the local Church Of Ireland parish is served at nearby Ballynure.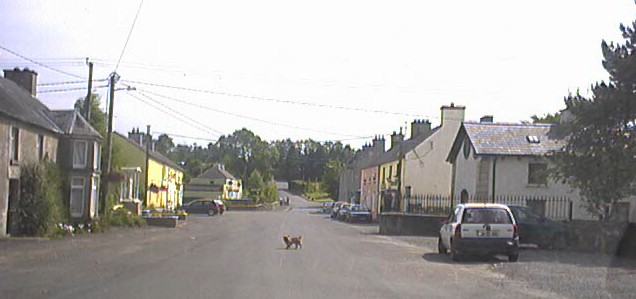 Grange Con
Grangecon Demesne & Lake

Grangecon Demesne was the home of Pierce Charles de Lacy O'Mahony, The O'Mahony of Kerry (d.1930), a bearded giant who used to wear a kilt and have a piper to pipe him into the old Roman Catholic church at Grangecon.

Born in Kilmorna, Co. Kerry, he was a Parnellite MP for North Meath (1886 – 92), and in 1904 opened an orphanage in Bulgaria for child refugees of the previous year's St Ilynden's Day uprising against the Turks. He was supported by leading social, political and religious figures, including the monarch ("Czar") Ferdinand I and the head of the Bulgarian Orthodox church in Constantinople. Many of the orphans adopted the name 'Mahoni' in his honour. One boy called Ivanov completed agriculture at Albert College in Dublin; his descendants have a farm near Arklow. Another studied medicine in Trinity College and had a very successful career around the world before returning to Bulgaria to live out his last days.

From 1915, Pierce worked with John Redmond, recruiting Irish soldiers to fight on the allied side in WWI. He was awarded a CBE in 1920, but is said to have returned it in protest at British policies.

Grange Con lake was where the dead body of Pierce Mahony was found in 1914.

He was implicated in the mysterious disappearance of the "Irish Crown Jewels" (the insignia of the Order of St Patrick) from Dublin Castle on the eve of King Edward VII's visit in 1907, along with other members of a notorious "homosexual ring" led by Frank Shackleton, younger brother of the famous explorer, and his intimate friend Capt. Richard Gorges, an instructor at the Curragh Camp. Other members included Pierce's uncle, Sir Arthur Vicars, Ulster King of Arms, chief Herald of Ireland (who was sacked, and subsequently murdered by the IRA in Kilmorna, Co. Kerry); Lord Haddo, eldest son of the Viceroy, Lord Aberdeen; and the King's brother-in-law, the Duke of Argyll.

Shackleton later served fifteen months hard labour for fraud, then changed his name and ran an antique shop in Chichester, where he died in 1941. Gorges threw himself under a train in Edgeware Road station; his name was deleted from the family tree, presumably for poor taste in his choice of suicide venue.
Grange Con is near Timolin (Co. Kildare) on ByRoute 6.
Stratford-on-Slaney is an exceptionally neat and attractive village. Built in the C18th to house workers employed in a textile-printing mill for the then lucrative linen trade, the village takes its name from its notoriously eccentric founder, Edward Stratford, 2nd Earl of Aldborough and Baron of Baltinglass.
Stratford-on-Slaney is not far from Donard on ByRoute 4.
Baltinglass Hill (1258ft), marred by a hideous giant cross reminiscent of the Spanish dictator Franco's Valle de los Caidos, commands very fine views of the surrounding countryside. The hill is the site of a Hill Fort with non-native chalk finishing, and a Portal Tomb featuring a chamber said by some to be illuminated at sunrise on the day of the summer solstice and by others to be aligned with the Northern Star, but which to the unenlightened observer looks like a gap in a heap of boulders.
Baltinglass (Co. Wicklow / West)
Baltinglass (Bealach Conglais – the Route of Cuglas, one the mythical Fianna warriors) (pop. 1800), was once also known in Irish as Manaistir an Bhealach. This attractive town on the River Slaney is nowadays a dormitory satellite for DUBLIN commuters, with a good range of places to eat and drink. Quinns of Baltinglass are local agri-business suppliers / consultants whose empire includes hardware and elecro-domestics, fashion, gifts, groceries and a good pub.The weirside mill that made the Stratford family very rich has been converted into modern apartments. A Monument to Michael Dwyer stands in the Market Square.
St Joseph's church (RC), a neo-Gothic edifice constructed in 1860, is one of several buildings of architectural merit in Baltinglass.
Baltinglass Abbey was founded in 1148 at the behest of the last king of Leinster, Dermot MacMurrough, commended by a letter from Saint Bernard of Clairvaux. It is an interesting fusion of Cistercian and Hiberno-Romanesque architecture, with decorative stonework displaying peculiarly Irish motifs. The original cloister has been rebuilt.
Fortgranite House, a rather ugly Georgian mansion that has belonged to the Dennis family for over 200 years, has a romantic toy castle style Gate Screen. Along with other cottages on the estate, the former lodge is now available for holiday rental as self-catering accommodation.
Baltinglass is near Kiltegan on ByRoute 4.