Castlepollard & Coole (Co. Westmeath / West)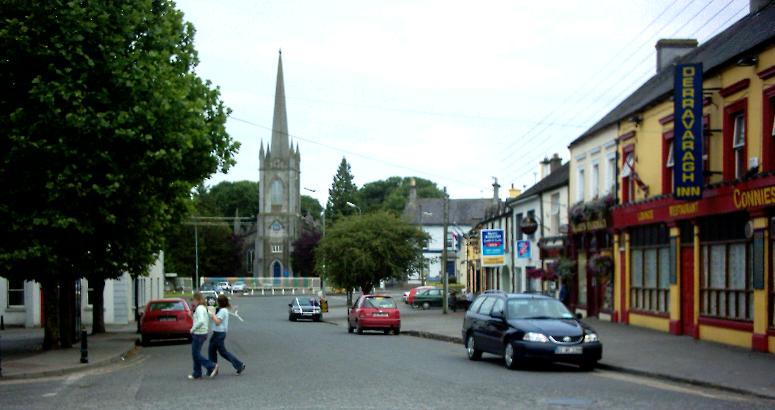 Castlepollard (Baile na gCros – "town of the cross"/ Cionn Toirc – "boar's head") (pop. 1200), historically aka Ballinagross and Kinturk, is a large village in a fertile valley west of Lough Lene and northeast of Lough Derravaragh. (Photo – www.hounslowhousebandb.com)
Castlepollard history




Capt. Nicholas Pollard from Devonshire fought in  the Nine Years' War, for which he was rewarded with land in Cionn Torc, and built a small castle which he called Castle Pollard.

His eldest son, Walter Pollard, married Ismay Nugent of Roscommon, and had his ownership of the land confirmed after the Wars of the Three Kingdoms by charter from King Charles II, who also granted him a patent to hold weekly markets and a four annual fairs. He died in 1685.

Walter Pollard junior joined the forces of King William III against King James II, and was appointed a Commissioner for supplies in Westmeath. He represented the County in the Irish Parliament, and was made High Sheriff in 1692. He married Elizabeth, daughter of Arthur Dillon, of Lismullen, Co. Meath, and was succeeded in 1718 by their sole surviving child, Letitia. She was married to  Major Charles Hampson, who assumed the name and arms of Pollard, became High Sheriff  for Westmeath in 1729, and died the same year. Their eldest son was Dillon Pollard, MP for Westmeath, who died in 1740 in Stonybatter, Dublin.

Kinturk House was built c. 1760, and the Pollard family gradually improved the estate until c.1821, when they had the mansion remodelled by the important architect CR Cockerell, commissioned the layout of Castlepollard village and set about construction of its most important public buildings, notably the landmark Market House, used for regular sittings of the Petty Sessions Court.

On 23rd May 1831 the Castlepollard Fair saw a confrontation between a hostile crowd and armed constables who opened fire, producing as many as 13 casualties. Popularly recalled as "the Castlepollard Massacre", this incident is thought to have been related to the enforcement of collection orders during the Tithe War (1831–1836). Spasmodic violence broke out around this time (particularly in the southeast of Ireland) when the police enforced seizure orders on cattle for non payment of tithes due to the Church of Ireland. Order was finally restored by rescinding seizure orders in 1836.

The Pollards intermarried with the neighbouring Packenhams and other landed families. William Dutton Pollard (1815 – 1873) married a Scottish heiress and assumed the additional surname of Urquhart. He had several children and numerous grandsons, several of whom were killed in action during WWI. The family retained ownership of Kinturk House & Demesne until 1935.

During the War of Independence the IRA burned the RIC barracks located on the Mullingar Road. The police then moved to the Market House, then used as a Court House, which was also torched. Two sitting magistrates were kidnapped by the IRA on their way to the court and held hostage locally, reportedly in a cow byre on the Hill of Moal, but were released unharmed after forty eight hours.
The original early C19th layout is well preserved, despite numerous modern housing estates on its fringes.
The Square, a central area surrounded by Georgian buildings, features a large landscaped triangular green containing a monument depicting a scene from the legend of the Children of Lir set on Lough Derravaragh.
The Market House, located at the west end of the Square, was rebuilt in 1926, and has variously served as a town hall, fire station and library.
St Michael's church (CoI), an attractive Gothic Revival church built c.1827, set back from road to the south side of The Square, has a splendid three-stage tower and an interesting interior with a decorative plaster ceiling, heavy Victorian wooden pews, pulpit and lectern, high-Victorian stained-glass windows and a Bevington Organ (a gift from St. Keirin's church, Loughcrew).  Some of the earlier marble memorials and monuments pre-date this church and were probably moved from the old church at Killafree after it was deconsecrated. The clock in the tower, designed by J Booth and Son, was erected in1887 in memory of the 4th Earl of Longford. An old path to the rear of the churchyard used to connect the church to the Kinturk House demesne.
St Michael's church (RC), a Gothic Revival edifice completed in 1859, possibly incorporating the fabric of an earlier  chapel, located on Church Street, to the east of The Square, also has an imposing tower. The interior, relatively untouched since the mid-C19th, features a Carrera marble altar, Victorian decorativ floor tiles to the floor and carved Gothic-style Stations of the Cross and memorial monuments.
St Peter's Centre is the modern incarnation of Kinturk House, the Pollard family residence purchased in 1935 by the Sacred Heart Sisters, who added an interesting modernist chapel wing.The house was run as one of their now infamous  Magdalen Asylums until 1971, when they sold it to the Midlands Health Board together with a separate hospital designed by TJ Cullen and financed by the notoriously corrupt Irish Hospitals' Sweepstakes. According to Lewis (1837) "within the grounds is a lofty hill, in a grave on the summit of which was found the skeleton of a man, and near it a very large iron spur".
Tullynally Castle

Tullynally Castle, historically aka Pakenham Hall, has been owned by the same family since the mid-C17th, and the seat of the Earls of Longford since the late C18th. What began c. 1655 as a  fortified Tower House was remodelled as a Georgian mansion in the 1730s, and then turned into the present huge rambling Gothic Revival castle by many of the most important architects working in Ireland during the early-to-mid C19th, including Francis Johnston, James Shiel and Sir Richard Morrison. (Photo – www.tourismresources.ie)

The title Earl of Longford was first bestowed upon Francis Aungier, 3rd Baron Aungier of Longford, in 1677, with remainder to his younger brother Ambrose; the titles became extinct upon the latter's death in 1706. In 1739 Elizabeth Cuffe, niece and heiress of the first and second Earls, married Thomas Pakenham, MP for Longford, who was created Baron Longford in 1756, while  Elizabeth was created Countess of Longford in the Peerage of Ireland in 1784. Their grandson, the 3rd Baron, became the  2nd Earl of Longford (2nd Creation), and in 1821 was created Baron Silchester in the Peerage of the United Kingdom, which gave him and his descendants an automatic seat in the House of Lords.

The 4th Earl was a Conservative politician and served under the Earl of Derby and Benjamin Disraeli as Under-Secretary of State for War from 1866 to 1868. His son, the 5th Earl, fought in WWI and was killed in action at Gallipoli in 1915. The 6th Earl, a playwright and poet, sat briefly in the Irish Senate.  He died childless and was succeeded by his younger brother.

Francis Aungier Packenham (b. 1905), 7th Earl of Longford, was a British politician  who served in the Labour governments of Clement Attlee and Harold Wilson in various ministerial roles. A social activist and convert to Roman Catholicism, he was probably most famous for campaigning for Prisoners' Rights and against Gay Rights, pornography and sex clubs, which he visited personally, and became a leading media personality, often debating moral issues with Malcolm Muggeridge and others on TV. He was also active in Irish affairs, particularly in promoting Dublin's right to Hugh Lane's bequest of paintings and as the author of several books on Irish history, incluing one about the Anglo-Irish Treaty 1921 and a biography of Eamonn DeValera. When the House of Lords Act 1999 removed the automatic right of hereditary peers to sit in the House of Lords, Lord Longford was created a life peer to enable him to remain a member until his death in 2001.

The 8th Earl, a writer, historian, and arborist known by his own wish simply as Thomas Pakenham, is chairman of the Irish Tree Society.

Several other members of the Pakenham family have also gained distinction over the years, usually as senior officers in the British armed services or as diplomats. Kitty Pakenham (1773-1831) was a friend of novelist Maria Edgeworth and married Arthur Wellesley, 1st Duke of Wellington. A daughter of the 6th Earl, Lady Violet Pakenham, was a writer and critic and the wife of the author Anthony Powell. The 7th Earl's wife, Elizabeth Pakenham, Countess of Longford (née Harman), was a writer and social activist. The 8th Earls sisters, Lady Antonia Fraser, Judith Kazantis and Rachel Billington, are prominent writers.

The Irish National Inventory of Architectural Heritage calls Tullynally a "magnificent sprawling castle, with a picturesque skyline of turrets, pinnacles, battlements and tall Tudoresque chimneystacks… The attention to detail displayed throughout and the quality of the workmanship is outstanding and Tullynally Castle is, without question, a hugely significant structure of national importance."

The renown gardens, like the castle, are on a magnificent scale, covering nearly 12 hectares (29½ acres). Terraced lawns around the castle overlook superb C18th parkland. The adjoining woodland gardens and walled gardens date largely from the early C19th and encompass a grotto of eroded limestone from nearby Lough Derravaragh and two ornamental lakes. The present owners have added an impressive arboretum, a Chinese garden complete with pagoda, and a Tibetan garden of waterfalls and streams; and a local sculptor has made fantastic woodcarvings in existing roots and trees. The walled gardens have extensive flower borders and an avenue of magnificent 200 year old Irish yews. The gardens are open to the public in the spring and summer. (Photo by januszrun)

A number of other historically significant structures are located on the grounds, notably the Gate Lodge designed c.1820 by Henry Shiel (a former clerk of Francis Johnston),  now a private residence.
Coole (An Chúil) (pop. 300), historically aka Mayne,  is stretched over a series of junctions and cross-road on a plateau that overlooks part of the Bog of Allen, cultivated for peat for fuel consumption and garden plant soil compost purposes by Bórd na Móna and private enterprise, damaged by fire in May 2011.
St Nicholas church (CoI), erected c.1806, contains a late medieval/ C17th font.
Turbotstown House, built c.1810 on the site of an earlier Tower House, has strong historical connections with the Dease family, who had their seat at Turbotstown from c.1450 until 1926, producing several notable soldiers, scholars and clergymen.
The church of the Immaculate Conception (RC) dates from 1858.
Lt Maurice James Dease, born at Coole, was the first posthumous WWI recipient of the Victoria Cross, for bravery at the Battle of Mons in 1915.
Theresa Dease, a local philanthropist, set up St Joseph's Orthopaedic Hospital for Boys, which was run by the Sisters of Charity from 1916 until the 1981.
Coole is
Lismacaffrey has strong historical associations with the monastic period; Saint Fintan is believed to have established a settlement here and the site was subsequently occupied by the Franciscan Third Order Sisters.
(Coolamber Manor  (from Cul Amra – "hill-back of the trough", formerly Cloonshanagh House (from Cluain Seanach – "meadow of the foxes"), is officially situated at nearby Lisryan (Co Longford). This a distinctive late Georgian style country mansion, designed c.1830 by John Hargrave for Majot SW Blackall / Blackhall, was until recently used as a rehabilitation centre, with a fully self sufficient farm to provide all food required by the inmates and staff).
St Mary's church (RC) in Boherquill, built in 1812, reconstructed in 1932 and recently renovated, serves the modern parish of Rathaspie & Russagh.
Streete & Rathowen (Co. Westmeath / West)
Streete (pop. 70), a picturesque village in the rich green wooded  lowlands of the Inny River valley, gave its name to a parish extending into County Longford. It was long known as "beate Maria de Straid" – "St Mary's of the Streete", and the local churches have been dedicated to St Mary ever since.
John De la Mare reportedly had a castle and prison in Streete.
St Mary's church (CoI) is officially said to have been built c. 1810, but has several features that suggest otherwise. It was described by Lewis (1837) as "an ancient building, for the repairs of which the Ecclesiastical Commissioners have recently granted £228'".  The round-headed windows and the presence of a memorial dated 1767 suggests a mid-C18th date, although it was a relatively common practice to move memorials from deconsecrated churches into their newly built replacements at the time. The irregular spacing of the windows to the nave also suggests earlier fabric. Local tradition has it that this church was originally used as a Roman Catholic place of worship, and a secret underground passage as used by priests taking refute from persecution. A 1612 report mentions a 'thatched church' at Streete, so there may be some truth behind the legend. (Photo – www.buildingsofireland.ie)
Described as late as 1837 as "an inconsiderable village", Streete was largely laid out in the mid-C19th by the Wilson family of Dramona House. They owned a local saw mill, and installed an electricity generating plant in 1885, making Streete the first village in Ireland to be lit by electricity.
Daramona House

Daramona House, an elegant  medium-sized mid-C19th Italianate country house with ornamental garden pavilions, is one of the most attractive edifices of its type in Westmeath. It may have replaced an earlier house on site, retaining the rather oversized Doric entrance porch.

This house was built for John Wilson (1826-1906), a noted intellectual who published an influential book entitled 'Thoughts on Science, Theology and Ethics' in 1885. He was married to Frances (née Nangle) (d. 1876); they had one son and three daughters.

William E Wilson (1851-1908) was educated at home due to delicate health, but travelled to Oran, Algeria to observe and photograph the total solar eclipse of December 1870, went on to become an astronomer of international repute, and also served as High Sheriff for County Westmeath in 1894.

Daramona Observatory, despite its currently dilapidated condition, is extremely important in historical and scientific terms. A smaller observatory built in the garden in 1871 had a 12" equatorial reflecting telescope provided by Sir Howard Grubb. In 1881 a new observatory was built with a larger dome for a more powerful 24″ Grubb telescope, and in 1889 a new physical laboratory was erected adjoining this structure. Important works carried out here included the first accurate measurements of the temperature of the sun (with P L Gray), the first cinematographic photographs of a sun spot, a series of unrivalled photographs of nebulae and star clusters, early experiments on X-rays and important work on the photoelectric detection of starlight along with Professor Minchin (London) and Professor George Francis Fitzgerald (TCD). Other distinguished visitors to Daramona included Professor AA Rambaut and Professor CV Boys. Read more here.

Kenneth Edgeworth (1880-1972), son of William's sister Elizabeth and her husband Thomas Newcomen Edgeworth, was born at Daramona House and lived there for several years. After a distinguished military career he carried out important theoretical research on the Solar System. Edgeworth speculated in 1943 that there is a belt of cometary material beyond the orbit of Neptune. Since 1992 thousands if bodies have been found in the Edgeworth-Kuiper belt, and these are now the subject of intense research.

In 1922, after having lived for some time at Kilnahard Castle, Mountnugent, Co.Cavan, the Wilson family moved to England. They donated much of the original instrumentation to TCD and their original 24″ Grubb Telescope to the University of London, where a new observatory was built to house it, since 1974 it has been exhibited at Liverpool's Merseyside County Museum .
The Streete Institute, founded in 1856 by John and Frances Wilson of Daramona House,  held adult classes in all branches of education including farming and engineering. It had a well-stocked reading room and a fine harmonium for concerts.
Streete is
Streete & Rathowen Railway Station was opened in 1877 and finally closed in 1963.
Rathowen (Ráth Eoghain – "Eoghan's Ringfort") is said in confusing local folklore to have got its name from a military encampment by troops loyal to Owen Rua O'Neill during the Wars of the Three Kingdoms.
St Thomas' church (CoI), a Gothic edifice with an impressively pinnacled bell tower, was built in 1814 and altered in 1821. Formerly aka Rathaspick parish church, it is in poor condition externally but reportedly well maintained inside. (Photo / Photos)
St Mary's church (RC), an attractive cruciform Gothic Revival-style edifice  with stained glass windows by Mayer of Munich, was built in 1846 by the Rev. James O'Reilly on land donated by the Bond family of Ardglass (plaque) and also serves the modern parish of Rathaspie & Russagh. (Photos)
A new walking trail explores one of  the last remaining bogs in County Westmeath.
Rathowen is