Thatched cottage (c. 1800) in Drumcree (Photo –www.buildingsofireland.ie)
Drumcree (Co. Westmeath / East)
Drumcree (Druim Criadh), a crossroads village, fringes parts of the Barbavilla Bog, the Glackstown Bog, and Mullacruaigh Bog, all of which have been harvested for winter fuel for generations by the neighbouring communities.
Drumcree House, an elaborate Palladian mansion built c.1750 on the site of an earlier castle for the Smyth family, important local landlords and noted architectural patrons during the C18th and C19th, is now in ruinous condition.
Glananea House, built c.1790 in a reserved neoclassical style to designs by Samuel Woolley, was originally called 'Ralphsdale' for its first owner, Ralph Smyth, known as 'Smyth With the Gates' until he sold the original arched entrance gateway to the Wood family of Rosmead House, whereupon he was promptly renamed 'Smyth Without the Gates'.
Drumcree is
Lough Adeel lies north of Drumcree and east of Collinstown.
Collinstown (Co. Westmeath / East)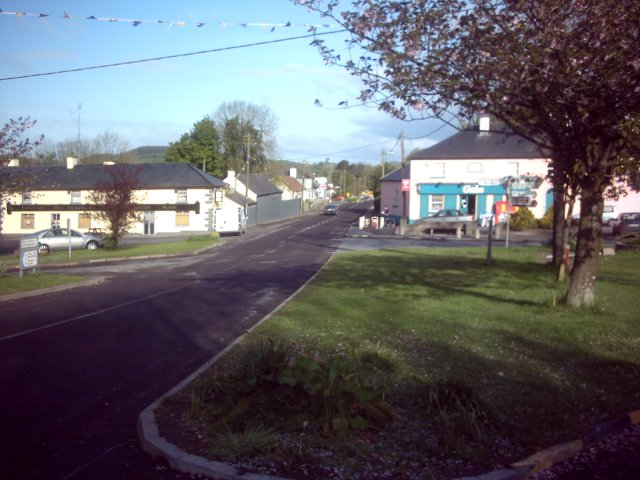 Collinstown (Baile na gCailleach – "town of the veiled women / old hags", referring to a convent on Nuns' Island in nearby Lough Lene) (pop. 700), historically aka Maypole, is a pleasant crossroads village with a central square, two popular pubs and great views of Lough Lene.
Barbavilla House

Barbavilla House was originally built c.1730 by William Smyth on land inherited from his father, William Smyth, Bishop of Kilmore & Ardagh, and was named after his wife Barbara, daughter of Sir George Ingoldsby, a cousin of Oliver Cromwell.

Barbavilla House is considered to be one of the last country houses in Ireland built in the C17th tradition, making it rather old fashioned even when first built. William Smyth was a relative of Sir Thomas Burgh (c.1670 – c.1730), Ireland's foremost late-C17th architect, who may have advised on the design.

The house was considerably altered c.1790, and has undergone many changes and additions since then. The Smyths left Barbavilla in 1955, and since 1964 the IRALCO Irish Aluminum Company has used the house for offices and the grounds for modern industrial units to produce automotive parts for major European car companies, employing personnel locally.

The old Barbavilla estate also contains a farm that produces goat's cheese and a stud / equestrian centre.
The Smyths of Barbavilla were long the principal employers in Collinstown, and were responsible for the construction of stone farm buildings, animal dwellings and workers' houses throughout the district, many still roofed with red clay tiles manufactured within the Barbavilla estate, and now legally protected structures.
The Old Schoolhouse, set back from the road within its own grounds, features a handsome pointed-arched doorcase with a carved inscription reading "Collinstown Schools Erected 1857 the Gift of God – Deade Smythe Esq." It is now a private residence.
St Mary's church (RC), built c.1830 and refurbished c.1880, is a handsome edifice with vivid Victorian-era stained glass windows.
The Collinstown area contains ancient burial-grounds associated with Saint Colman, who was responsible for seven early Christian cells, including those of Lene and Carric. Several local paths and stiles date from the Penal Law era, when the faithful walked long distances through fields to attend clandestine  Sunday Mass.
The hilly Ranaghan district southwest of Collinstown and east of Lough Derravaragh, is notable for a number of Ráths / Ringforts on the high ground overlooking the lakes, thought to date from the early Middle Ages. The most famous, called Randoon, is believed to have been home toTurgesius / Thorgest, the Viking chieftain renowned for conquering the site of the future city of Dublin. Legend has it that Turgesius dwelled here before being killed by Máel Sechnaill mac Maíl Ruanaid on the instructions of Melaghlin.
Collinstown Farmers' Market is held every Friday morning.
Collinstown is not far from Crookedwood on ByRoute 14.
Collinstown has jetty facilities on Lough Lene at "The Cut" about 2 km north of the village.
Lough Lene




Lough Lene / Lane (Loch Léinn / Léin / Leibhinn) lies between the villages of  Collinstown, Fore and Castlepollard. Covering approximately 500 hectares, it has an irregular oval shape, about 3.2km long, 1.7km wide, and 20m deep, the lake is presumably fed by groundwater, since no surface inflow is apparent. Outflow is a stream from the eastern end that leads into the River Deel. (Photo by Gavigan)

Lough Lene is famed for its pristine "gin clear" water, regularly awarded an EU Blue Flag. Swimming, sailing and windsurfing are popular, while jet-skis and water-skiing are prohibited on Lough Lene.

Lough Lene has been called the most productive fishing lake in Ireland. Anglers wishing to catch the lake's exceptionally large wild brown trout and pike from the shore or by boat can purchase fishing licences in Collinstown in season .

There are many bird species on Lough Lene , including Mute Swan, Teal, Pochard, Great Crested Grebe, Little Grebe, Tufted Duck, Grey Heron, Water Rail, Mallard, Goldeneye, Cormorant and Wigeon. The surrounding lands are inhabited by Snipe, Lapwing and Curlew.

Much of the lake shore is accessible to grazing cattle, goats, sheep and horses. Patches of wet woodland colonise former areas of cut-away bog and other low-lying areas close to the lake and are dominated by willows, birch and alder with patches of common reed. These areas support a rich flora.

The three islands in Lough Lene are collectively known as Smyth's Islands, presumably in reference to the C19th landlord family. All three are thought to have been used for refuge and safety during times of turmoil; all have been sites of important archeological finds and contain ruins of significance. Monks Island, which was the fourth island in this lake according to older maps, seems to have been subsumed by the wetlands around the lake.

Turgesius Island, the largest, is named for the Viking who founded Dublin, said to have had a fortress here.

Nun's Island, historically aka Madames Island, is said to derive its name from a convent that once stood on it.

Castle Island was where  a boy called Kit "the Blade" Fagan was fishing for eels in 1881 when he found a curious artefact. The island's then owner, Mr. William Barlow Smyth, noted that its ornamentation was of a type generally reserved for early Christian cases or shrines and was similar to C7th bells found in Bangor, County Down in  1832 and  Cashel, County Tipperary in 1849, and concluded that it could have been a relic of St. Feichins Abbey in Fore. He presented it the RIA in 1882.

The Lough Lene Bell is now in the NMI. A half size reproduction gifted to Dáil Éireann in 1931 by the widow of a former Unionist MP and independent TD, Bryan Cooper, has since been the bell of the Ceann Comhairle (Chairman) of the House.

Recovery of canoe, 1968. (Photo by Sean Magee)

The Lough Lene Boat, aka The Monks' Boat, is a "dug out canoe" / logboat discovered in 1968 by local diving enthusiasts on the east side of Lough Lene.  Although an NMI expert reported that it combined "techniques of sewn boat construction together with that of mortise-and-tenon in a way which cannot be paralleled elsewhere at present", radiocarbon dating indicated that it was constructed sometime between the C1st and C4th.   Some claim that it was sunk centuries later while moving religious artefacts used in Fore Abbey and in the convent on Nuns Island, and is cursed with bad fortune. Because of theories about a possible Romano-British origin, some have even suggested a connection between the vessel and Saint Patrick)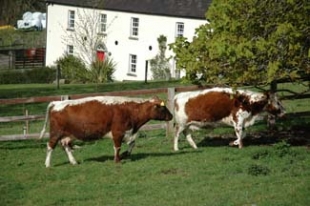 Lough Bishop House is a highly recommended award-winning B&B / Guesthouse run by Helen Kelly (a superb cook) and her family on their working organic farm, featuring pure bred draught horses. The restored early C19th farmhouse, reached by a long driveway,  is beautifully furnished and has a well-stocked library. A self-catering cottage is also available.