Crookedwood countryside, with Knockeyon and Lough Derravaragh. (Photo by Cecinho)
Crookedwood (Co. Westmeath / Northeast)
Crookedwood (pop. 500) is an attractive rural village set amid pine-covered hills close to the southeastern end of Lough Derravaragh.
The district, associated with old legends of Fionn Mac Cumhaill and the Fianna, was historically known as Taughmon / Taghmon, from Teach Munnu – "the house of Munnu", i.e. Saint Fintan Munnu / Munna, the C6th – C7th leper abbot famed for both his patience and bad temper, who is believed to have established a monastery locally, and is also recalled in Taghmon (Co. Wexford).
St Munna's church




St Munna's church at Taughmon, erected c. 1450 and extensively remodelled c.1843 by Joseph Welland, is notable for its fortified defensive tower,  where the clergy used to sleep. (Photo by Tomasz Bukowski)

Built on or near the site of the monastic foundation associated with Saint Munna, and possibly incorporating parts of an older structure, the building was long used for Church of Ireland worship, but is now in State ownership.  Carvings include a medieval ecclesiastical figure and a sheela-na-gig. Several prominent members of the Nugent family are buried here. Nearby stands an ancient Ring Fort.
Taughmon parish church (RC) in Parsonstown, built c.1844 as a chapel of ease associated with the then principal Tyfarnham parish church in Multyfarnham, is interesting in that its parochial house, unusually attached at the western end, forms part of the same structure. An elaborate cast iron belfry stands nearby.
Crookedwood House, an attractive Georgian farmhouse built in 1813 by a branch of the powerful Nugent family, with wonderful views across Lough Derravaragh, was until quite recently run as a pleasant Restaurant & Guesthouse.
Knockeyon & Lough Derravaragh




Knockeyon (Cnoc Eoghain) (215m / 705ft), located on the southeastern shore of Lough Derravaragh, is named after Saint Eoghain / Eyon / Keyon / Ion, about whom little seems to be known. One of the highest summits in County Westmeath, its distinctive shape dominates the countryside of North Leinster. On clear days, the views from the summit extend as far as the Irish Sea to the east and allegedly even the Atlantic to the west.

St Cauragh's chapel, situated half way up the slope of the hill, was cut out of the natural rock, and is thought never to have had a roof. According to legend it was here that Saint Cauragh, expelled by Saint Columcille from the Kells monastery for breach of discipline, and having wandered throughout the land in search of a secluded place to pray and fast, became seriously ill; he prayed for a drop of water to quench his thirst, and was rewarded by the sound of liquid trickling out of the rock above his head. He put out his hand and drank freely of this miraculous water, as a result of which he was cured, and built the chapel in gratitude, apparently dedicating it to Saint Eoghain.

St Cauragh's Well, now in ruins, was for many centuries the destination of thousands of barefoot pilgrims on Cauragh Sunday, the first Sabbath of harvest; their devotions concluded, they would gather in a green area at the foot of the hill where musicians played and everyone spent the remainder of the day picnicking, drinking and dancing.

Knockbody Woods is inhabited by a large population of wild pheasant.

Lough Derravaragh/ Derravarragh (Loch Dairbhreach), a lake with an area of over 1080 hectares / 2700 acres, is shaped rather like Italy or a swan in flight. It is fed by a number of streams, notably the River Inny, which flows from Lough Sheelin on its way to becoming a major tributary of the River Shannon, and the River Gaine. (photo – www.midirelandtourism.ie)

Lough Derravaragh is famed for its connection with the legend of the Children of Lír (Oidheadh Chlainne Lír). According to the story, after being turned into swans by their wicked stepmother, the four children of King Lír endured the enchantment for 900 years, spending the first 300 on Lough Derravaragh before moving to the Straits of Moyle between Ireland and Scotland for 300 more, followed by 300 near Erris and Inisglora on the Atlantic. The enchantment would end only if a woman from the south were to mate with a man from the north. The story ends when they were rescued and cared for by St. Mochaomhog. They became human once more, but in the form of old and decrepit people and they died soon afterwards – but not before they had been baptised by him so that they could be buried as Christians.

On the Kiltoom side of the lough are mounds of stone that formed part of a series  of crannógs (artificial islands dwellings). In the 1970s a Stone Age dug-out canoe was recovered from the lake by employees of the Tullynally estate.

The hilly Ranaghan district east of Lough Derravaragh is notable for a number of Ring Forts, thought to date from the early medieval era. The most famours, called Randoon, is believed to have been home to Turgesius / Thorgest, the Viking chieftain renowned for conquering the site of the future city of Dublin.

Fahalty, on the eastern side of the lake,was briefly the principal residence of King Richard II's heir presumptive , Edmund Mortimer, 3rd Earl of March and Lord of Meath, Lord Lieutenant of Ireland 1377 – 1381, together with his wife Philippa, Countess of Ulster, daughter of Lionel of Antwerp, Duke of Clarence, and granddaughter of King Edward III.

The Lough Derravaragh National Habitat Area includes a variety of wetland, grassland, and woodland habitats, plus a small area of raised bog, all that remains of what was once a very large bog extending towards the northwest of the lake. Most of this area has now been cutover, and large areas have been reclaimed for agriculture. The lake is much frequented by winter migrants, including three endangered varieties of Greenland geese.

Donore, formerly  a Nugent residence and now a beautifully developed facility on the southeastern shore at Lough Derravaragh, caters for fishing, boating, canoeing, swimming and other watersports; a caravan park and shop restaurant are open in summer.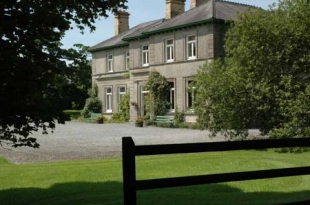 Mornington House is an elegant manor house of early C18th origin, owned by the O'Hara family since 1858. Renovated and altered in 1895,  it has been modernised as a luxurious Guesthouse by Warwick & Anne O'Hara (known for her great cooking), while retaining its Victorian furnishings (including brass beds), ancestral portraits etc. Close to Lough Derravaragh, the house has a charming walled garden and wooded grounds full of wildlife.
Multyfarnham (Co. Westmeath / Northeast)
Multyfarnham (Muilte Farannáin -"Farannain's mills") (pop. 200), historically aka Multifarnham /  Multifernam / Moleyfarnam, is a charming rural village on the River Gaine, with stone buildings and a quaint old Forge.
Franciscan Friary




Multyfarnham's Friary was founded c.1270 by William Delamere for Conventual Franciscans, and rapidly became a renowned medieval centre of learning. On account of its exposure to attacks by the O'Farrell sept, Maurice De la Mar obtained a grant of tolls to reinforce the bridge in the early C15th, and in 1460 friars of the Strict Obsevance rebuilt the church and erected its elegant 90ft tower.

The establishment  survived King Henry VIII's 1540 Dissolution of the Monasteries, only to suffer 50 years later at the hands of Crown forces, who raided six it times and burnt it twice during the late C16th Nine Year's War. The monastery was  used by the leaders of the 1641 Rebellion as a venue to discuss their plans. When Mons. Massari visited in 1646, there were 30 friars. In 1766 there were seven friars but five were very old. Franciscans returned to re-open the Friary in 1827.

The Friary church, unroofed from 1651 to 1827, was rebuilt, incorporating the medieval nave, south transept and tower, and has since been re furbished. The armorial bearings of the Nugent family are still visible on several graves. A brilliant modern stained glass window by Richard King depicts four swans, with silver chains around their necks, an illustration of the ancient legend of the Children of Lir. (Photo by fajna asia)

A seraphic college was opened in 1899, there being only four pupils the first year. This became an agricultural college in 1956, and continued to operate until 2003. The college is now used as an educational and arts centre, hosting regular seminars.

The beautiful monastery grounds, with secluded lawns shaded by old trees, feature 14 elaborate life size outdoor sculptures depicting the Stations of the Cross, attracting devotees from all over Ireland.
St Nicholas church (RC), built in 1830, with a splendid tower added c.1860, contains several intereesting marble funerary monuments.
Multyfarnham railway station, opened on 8 November 1855, is now a private residence.
Weirs Bar & Restaurant is an award-winning family-run pub known for its old-fashioned charm and good food.
Multyfarnham is
Wilson's Hospital




Wilson's Hospital, housed in a magnificent purpose-built Palladian building designed by John Pentland, was founded in 1761 with money bequeathed by Andrew Wilson of Piersfield in his 1724 will (contested by family members) as a hospital for old men, e.g. retired soldiers, and as a school for poor young Protestant boys. The first function was gradually dropped.

The 1798 Rebellion saw a bloody battle fought in the school grounds on 5th September of that year, with up to 300 insurgents killed, bringing the uprising in County Westmeath to an end. The event is commemorated by a marble plaque.

Wilson's Hospital School, nowadays a prestigious co-educational boarding establishment, open as a day school to local pupils, is the Church of Ireland Diocesan secondary education centre for Meath and Kildare.
Bunbrosna is the location of an ancient burial tumulus excavated in 1931 by RAS MacAlister and Ruby M Murray for the RIA.
Leney parish church (CoI), erected in 1817 and deconsecrated in 1985, is an atmospheric ruin, roofless and abandoned, its once proud belfry now only home to bats, surrounded by uncared for graves.
Ballinalack Castle, destroyed in 1462, is known to have been owned at the beginning of the C15thby the Ledwich family, a German family settled in Cheshire who came to Ireland c.1200 with the de Burgos, and ancestors of the poet Francis Ledwidge.