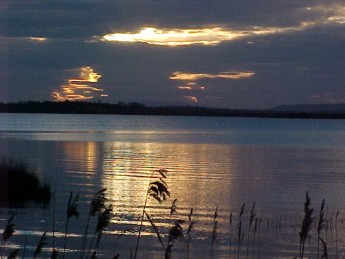 Lough George (Photo –Westpoint Lodge)
Crusheen & Ruan (Co. Clare / West)
Crusheen, one of  the northernmost villages in County Clare, is a  rapidly growing  community in an area once covered with oak forest on the southern fringes of the Burren. The district is remarkable for its rivers, streams and over 40 lakes, home to myriad waterfowl and fished to varying degrees for salmon, trout, bream, pike, carp, perch, roach, rudd, trench and / or eels.
Fogortys Bar is a particularly pleasant and unassuming thatched pub, with two open fires: the one in the small bar could roast an ox, and food is served.
This part of County Clare was quite heavily populated before the Great Famine, and contains many sites of archaeological or historical interest. Until the C17th the wealthiest families lived in fortified strongholds; the remains of about 40 such dwellings are still visible, usually located on high ground.
Inchicronan Lough, Abbey & Castle(s)




Inchicronan Lough is the largest single body of water in the district. Aka "the Island Lake", it is almost bisected by a long narrow peninsula and dotted with islets, some of which may be crannógs.

Inchicronan Abbey, a ruined medieval Augustinian priory situated on an island at the end of the long peninsula, consists of a heterogeneous group of buildings dating from different eras; some of the ruins display elegant achitectural features. (Image – Limerick City Museum)

The "Island Lights", a traditional death warning to certain families of the vicinity, are said to emerge  from the island graveyard. According to locals, whenever these small blue lights rise and make their way across the lake to the house of the fated person, a death inevitably follows. Never a cause of terror, they have been seen by many, either on their way from the Island or hovering at the house of the family about to be bereaved, most recently in the 1970s.

Inchicronan Castle, a C16th O'Grady Tower House granted to the Earl of Thomond in 1620, was used as a refuge by English settlers during the 1641 Rebellion, and besieged in March 1642 by its former owners together with Gilladuff O'Shaughnessy and the Burkes of Kiltartan.

The 1651 Siege of Inishcronan Castle saw the Cromwellian commander Generjal Ludlow defeat a force of Royalists. The  castle was thereafter held for Parliament by a Colonel Ingoldsby, and at this time Donogh Neylon, a Franciscan friar captured in Ennis, was hanged here, as was Teige Carrigge, another priest from the town. In 1653 a Captain Stearne cut timber locally for the repair of several castles, including this one, and the soldiers remained until at least 1656.

Carrahill Castle, now reduced to its foundations, is connected to Eagle Island by a barely submerged causeway.
O'Brien's Castle, three miles south of Crusheen village, is a well preserved ruin. Believed to have been built by a Bishop O'Brien in the mid-C15th, it was garrisoned by Cromwellian troops in the 1650s, when it was repaired by the doughty Captain Stearne. Owned by various O'Briens and Butlers over the years, it has been unoccupied since 1808. Visitors may look around with the prior permission of the owner. Features include a large cut-stone fireplace, the remnants of interior plasterwork and a large hole in one of the floors caused by lightning in the last century. The battlements command fine views of the surrounding countryside. (Photo – www.aughty.org)
Ruan / Ruane derives its name from an old Irish term for the alder tree, long used to dye wool red. This was where Richard de Clare of Bunratty assembled his troops on the morning of May 10th 1318 for their doomed assault on Dysert O'Dea.
Ruan's C15th parish church, in ruins for over two centuries, has an elegantly carved east window. The site also contains a C17th votive chapel.
The old cemetery is notable for the Egyptian Revival style mausoleum of Sir Michael O'Loghlen (d.1842), a leading politician and barrister who became the first Roman Catholic member of the post-Penal judiciary, as Baron of the Exchequer in 1836 and Master of the Rolls the following year. His statue can be seen in Ennis Courthouse.
Nearby, a small mound of stones known as the Tragedy Grave marks the burial spot of  a number of people drowned at Porte Lake many years ago.
Ruan's RIC Barracks was famously attacked in October 1920 by the local IRA "flying column", whose leader put the police through a drill formation outside the building as his men demolished it.
Dromore Wood, Lough & Castle

Dromore Wood, an official nature reserve covering approximately 400ha / 1000 acres, has many different habitat types, including a river, five lakes of varying size, turloughs, callows (flooded meadows), limestone pavement, fen peat, reed beds and species-rich woodland. There are two pleasant lakeside walking trails.

Dromore Lough and Ballyline Lough are popular with boating anglers. Together with their three diminutive sister lakes, they are home to swans, herons, geese and ducks.

Dromore Castle, once a spacious Tower House surrounded on three sides by water, is nowadays an atmospheric lakeside ruin. The land was granted in 1579 to Connor O'Brien, 3rd Earl of Thomond, whose second son Teige extended the castle in the 1600s.  (Photo by Mike Searle)

Teige's son, Dermot, was an influential member of the Kilkenny Confederates and took an active part in the 1642 siege of Ballyalla Castle. His sister, Sarah O'Brien, earned herself an unenviable reputation for cruelty during the same period. Conor O'Brien, the last  member of the family to live here, left Clare in 1689.

The remains of Cahermacrea Castle, Kilakee church, and two ancient ring forts are also within the nature reserve.
Port, a Georgian house facing south over Dromore Lough, was bought c.1860 by Jeremiah Kelly, whose descendants remain in possession; their family mausoleum stands by the side of the Ruan road. The remnants of Ballyharahan Castle, owned by Donogh Duff MacConsadine in 1580, can still be seen within the grounds.
Ballyteige East Ring Fort is notable for its double souterrain. This can be explored by sliding feet first in through the small hole  and wriggling, Thor Heyerdahl style, towards the far end, where another hole to the left gives access to a slightly smaller chamber. Great fun!
Ballygriffey Castle, originally a stronghold of the ancient Dalcassian O'Griobhtha / O'Griffey / Griffin sept, is in a fairly good state of preservation, although the roof has fallen in and part of the upper floor has collapsed. There is a fine earth fort in Ballygriffey Wood.